When you have some or all of your clothes off, it's easy to feel a little vulnerable, and you might not expect to be touched by your boudoir photographer. What's that about? Is it even necessary?
Your boudoir photographer will need to touch you a little. It's inevitable that a hair ends up out of place, or a tag needs to be tucked in, or a specific spot on your nose needs a little more powder. You can expect a good photographer to gently set those things right without stressing you out.
However, you have every right to speak up if you feel uncomfortable at any time! It's okay to:
– Ask lots of questions in advance. You're not being annoying or pushy. Ask any questions you have about what to expect without fear, and move on if a particular boudoir photographer doesn't want to answer you or gives vague answers.
– Ask the photographer to tell you what they're doing as they do it whenever they need to touch you. They can say things like, "I'm just going to tuck in this tag on your bra."
A sample script you can use here: "Hey, I'd like for you to tell me what you're doing when you touch me. It'll make me more comfortable."
(Note that you don't need to make excuses about how weird you are if you don't like to be touched. You're the client and you make the rules, no matter how many clothes you have on — or don't.)
– Ask the photographer to check with you before touching you. Most of us do get accustomed to making quick respectful adjustments without asking every single time, but a good boudoir photographer will try hard to remember to check in with you and not touch you without warning.
Sample script: "I'd prefer it if you'd check in with me before touching me."
– Take action. Most boudoir photographers are very invested in treating their clients well; after all, who wants to recommend a creep to their friends? However, if you get bad vibes, that doesn't mean you're being paranoid or weird. Listen to your gut. It's perfectly okay to speak up, and in fact you should. It's your session, and you should feel comfortable every step of the way!
Remember that you may not be fully dressed, but you have as much power here as if you were. It is completely okay for you to stand up and walk out if that's what will make you feel safe.
Sample script: You can use either of the above scripts, but if you feel unsafe, you can step straight to: "I don't like this experience and I'm going to get dressed and leave. We can discuss my refund over [phone or email, whichever you prefer]." Then get up, calmly go get your clothes, and leave.
Please note that I'm in no way implying that boudoir photographers are creeps, or that you might run into trouble! 99.9% of boudoir photographers are amazing, warm, loveable people who want you to have the time of your life and are going to treat you with dignity and respect. The takeaway here is that YOU deserve to be treating as the amazing, gorgeous phenom you are.

xoxo, Lindley

<<< >>>

Get more information about working with me: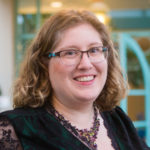 Hi there! I'm Lindley. I create artwork that celebrates the unique beauty of bodies that fall outside conventional "beauty" standards at Body Liberation Photography. I'm also the creator of Body Liberation Stock and the Body Love Shop, a curated central resource for body-friendly artwork and products. Find all my work here at bodyliberationphotos.com.