Body Liberation Stock Photos FAQ
We see them every day. They're in ads, magazines and websites. They're stock images – the pre-taken photographs and illustrations that businesses use in their marketing, advertising and blogging.
Watch these photos pass by for a few days, and you'll notice that they only represent a very narrow range of the human experience. The (mostly professional) models in these photos are almost always white, thin and able-bodied.
Big stock photo sites now offer group photos with the obligatory one or two people of color, but how often do you see a doctor, or dancer, or banker who's plus size or has a disability?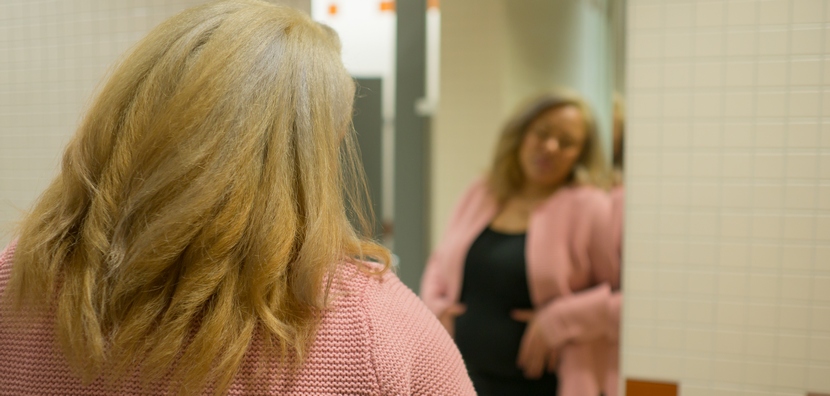 This narrow ideal affects us. A recent study found that "70% of teen girls agreed that magazines strongly influenced what they thought was the ideal body type." Also, "Numerous correlational and experimental studies have linked exposure to the thin ideal in mass media to body dissatisfaction, internalization of the thin ideal, and disordered eating among women."
The more we see unrealistic, idealized people in advertising and the media, the more it makes us doubt the worth of our own bodies, skin colors, looks and orientations.
Thankfully, the world is changing. Customers are demanding better from the companies they interact with, and more businesses are focusing on diversity and inclusion in their stock image use. This expansion is good for all of us: Companies are able to appeal to more potential customers, and we all get a healthier mix of representation in the media-driven atmosphere in which we live.
Body Liberation Photos is the world's first and best site for high-resolution, royalty-free, body-size-centric stock images for commercial use. You'll find images focused on inclusion and diversity in all walks of life, perfect for bloggers and graphic designers and priced for small business owners.
Are these images right for me and my business?
Some of the people who buy images at Body Liberation Photos are:
Graphic designers
Outfit of the day (#OOTD) bloggers
Diet recovery coaches
Body positivity and fat acceptance bloggers
T-shirt designers
Body image and body acceptance coaches
Magazine publishers (both paper and digital)
Eating disorder recovery specialists, therapists and centers
Health at every size (HAES) and intuitive eating (IE) coaches and trainers
Diverse and inclusive workplaces, and those working to improve diversity
Who's in these photos?
Most of the people in these photos are not professional models. They have no training in modeling and are the kind of people you pass in the street and have over for dinner. You know. Regular folks.
As often as possible, the people in these photos have the actual traits displayed or described in the photos. That man using a cane has an actual disability. That woman described as struggling with mental illness has actual anxiety and depression. That black software developer is an actual programmer. That plus size weightlifter is an actual powerlifter using real, ridiculously heavy weights.
OMG, I know that person!
Some of the models who've posed for Body Liberation Photos are sort of famous on the Internet. I try not to ask them for their autographs.
What if I can't find what I need?
Hop over to the Contact page and let me know what you're looking for, and I'll try to work it into an upcoming shoot. If you need something specific on a timetable, send me an email ([email protected]) and I'll give you a quote for custom work.
I want to model for stock photos!
If you're in the Seattle metro area (or willing to travel to said geographic location) and want to be a stock photo model, email me ([email protected]) and we'll chat.
I want to work with you!
Find information about my photography for individuals and small businesses here on the site.
What currency is your pricing in?
All prices are in U.S. dollars (USD).
How do I buy photos through the site?
There are several ways to buy stock images from Body Liberation Stock:
Add images to your cart and check out like you would at any other website.
Buy credits in advance for bulk discounts, or subscribe for more credits every month.
What's a credit?
Credits are the currency used here at Body Liberation Stock. Credits allow you to purchase and download images.
One credit costs $1 USD or less, depending on how many credits you buy at once. See the Plans & Pricing page for current pricing on credit bundles.
Please note that credits do not cover shipping costs. If you order an item that requires delivery, credits will be deducted for the item itself and you'll need to provide an additional payment method for shipping costs at checkout.
You can also buy images directly from the site (without using credits) at any time.
How much do images cost in credits?
The cost of each image in credits is the same no matter which subscription or credit bundle you've purchased. Not all credits are made equal, though! Here are some ways you can get discounted credits.
What happens to any leftover credits? Will they roll over?
Most credits are good for one year from the time you purchase them. See the Plans & Pricing page for details.
How much do images cost?
You can purchase images through the site by adding them to your cart and checking out. You can pay normally (via credit card, etc.) or use credit codes (see above) that you've previously purchased.
For digital downloads:
Social Media & Blog Size (1200×800 pixels): $5.00 (Around 5 credits)
Presentation Size (2000×1667 pixels): $10.00 (Around 10 credits)
Poster Size (4000×2667 pixels): $25.00 (Around 25 credits)
Original Size (Generally 4K-6K pixels on long side): $40.00 (Around 40 credits)
The cost of each image in credits is the same no matter which credit bundle you've purchased.
Can I get a refund?
Since digital items are downloaded to your computer, there are no refunds, sorry.
Search, Downloads & Files
How does the site search work?
Type into any search box on the Body Liberation Photos website to search for images.
Can I crop photos?
Yes, you can crop and alter the photos however you like!
What are the image download dimensions?
You've got three sizes to choose from when downloading images. The smallest is the perfect size for including with a blog post or on a landing page, and it goes up from there.
Social Media & Blog Size: 1200 x 800 pixels
Presentation Size: 2000 x 1667 pixels
Poster Size: 4000 x 2667 pixels
How do I remove the big watermarks across the photos?
As you browse the site, you'll notice that the stock photos have a watermark — a translucent mark across the center of the photo. These watermarks prevent image theft and are automatically removed when you purchase the photo.
What if I need a bigger size photo than what I bought?
Please don't try to stretch the photos to fit; they'll get all pixelated and weird, and no one wants weird pixellations. It gets awkward.
If you purchased a small size photo and need a bigger one, you'll need to go back to that photo's page and purchase it again in the larger size. Two exceptions: if you're upgrading from the smallest size all the way to the largest, and if you're upgrading more than five photos. In those cases, email me ([email protected]) for a discount.
How large an image should I buy for printing?
See this excellent calculator over at Nations Photo Lab for a guide to how large a photograph you'll need to purchase for printing at any size.
How quickly should I receive links to download images after purchasing?
Image purchases take a few moments to process after you complete your purchase. When processing is complete, you'll be able to view and download your purchases from your My Account page. You should also receive an email within half an hour with a link to download your purchases. If you haven't received an email after an hour, please contact [email protected]
What is the wishlist?
Wishlists are the best way to save stock images you like for later. Guest visitors can create their own wishlists to be stored for a maximum of 30 days, while visitors logged into their account can create unlimited wishlists and store them indefinitely.
Customers can assign their wishlists as public (anyone can search and find their list), shared (only someone with the unique URL can view), or private (only they can view it). You can also share your wishlist to Facebook, Twitter, Pinterest, and even email with a custom email message.
License Terms & Restrictions
Body Liberation Photos stock images come with a perpetual, commercial use license. The short version: use them as you wish on your website, blog, marketing, or printed materials, but don't claim them as your own work or resell them.
You are also prohibited from using these photos for or to illustrate the following subject areas: negative or critical body messaging, health warnings, or weight loss.
Please see the License page to review the license you'll receive in detail.
"Royalty free" means I don't have to pay for it, right? It's free!
Unfortunately, no — it's a common internet misconception that "royalty free" just means "free." What "royalty free" actually means is "you don't have to pay the artist a royalty every time you use their work." Take a look at the Quick Guide to Licenses below to see which license is right for you.
Can I use these photos any way I want?
The license applied to these photos outlines what you can and can't do with the photos. The short version: use them as you wish on your website, blog, marketing, or printed materials, but don't claim them as your own work or resell them.
You are also prohibited from using these photos for or to illustrate the following subject areas: negative or critical body messaging, health warnings, or weight loss.
Please see the License page to review the license you'll receive in detail.
Do I ever have to pay to renew the license for my photos?
Nope! You'll enjoy a perpetual use license.
Do I need to credit you when I use these images?
When you purchase stock photos, you don't need to add any credit or links — after all, you paid for them! If you want to add a credit, that's kind, but it's not expected or mandatory. If you'd like to add a credit, you can do so by linking the text "Body Liberation Stock" to bodyliberationstock.com.
Quick Guide to Licenses
All rights reserved: This is a creator's way of telling you that you can't use this image in any way, shape or form. In other words, they've reserved all the rights. You often see this on photos over at Flickr.
Copyright: When you purchase the rights to use an image, you're not purchasing the actual copyright. Except in very specific circumstances, the copyright remains with the creator of that artwork.
Beyond the fact that it would make you a terrible person, this is also why you can't license an image and then claim it as your own work.
Creative commons: This kind of license is one way some creators make their works available for other people to use. There are a number of variations on these licenses, so you can read more about them over at creativecommons.org.
Google: Like "royalty free" down below, the internet has done some strange things to the concept of copyright. No matter what you've seen or heard online, just because you can google up an image and then right-click and save it doesn't make it free to use. Read more about why it's not okay.
Public domain: These works include those whose copyright has expired and those deliberately released into the public domain. 99Designs defines public domain as, "a photo, clip art or vector whose copyright has expired or never existed in the first place. These images can be used by almost anyone for personal and commercial purposes."
Rights managed: With rights-managed images, your right to use the image is typically restricted, with limitations placed on things such as duration of use, geographic region, industry, etc., as established by your license agreement.
Royalty free: A license that doesn't require you to pay the creator every time you use the work. These are generally paid licenses, though some websites do offer royalty-free images for, you guessed it, free.
Right now, all stock images offered at Body Liberation Photos are royalty free.
Hi! I'm Lindley.
I'm a photographer, author, cat mom, subscription box creator, and fat activist.
I'm disrupting the stock photo industry by creating photographs and curating contributor artwork of fat people living their lives and enjoying the world in non-shaming contexts. Each image is aligned with body positivity, fat acceptance, health at every size (HAES) and intuitive eating.
Join my free weekly newsletter, the Body Liberation Guide, to keep up on new collections.