This post may contain affiliate links, which allow us to earn commissions on products we recommend. All opinions are our own.
Take a look with me at Tatiana Gill's Fat Positive Coloring Book! I'll let you in on a bit of background about the book itself and the original cover, plus give you a peek at what's inside.
Full disclosure: I was provided with this copy of the coloring book in exchange for the review. All opinions are my own.
I'm makeup-free in this video. The video was created on land belonging to the Duwamish tribe. I support the tribal council monthly and you can too: https://www.realrentduwamish.org
---
Video Transcript
Hi everybody. I'm Lindley. And today, I have a little product review for you. This is a sponsored review. I was provided a copy of this fantastic coloring book for free in exchange for my review. But all opinions here are my own. I have not talked to the creator about what I thought of their product.
So, artist Tatiana Gill created The Fat Positive Coloring Book. I first met Tatiana—she's local to me —I first met her in person a couple of years ago. And she's just been a delight to know. She is a cartoonist and illustrator here in Seattle. And she has written and drawn and self-published dozens of comic books in her signature style. She draws comics and illustrations for organizations including King County and Seattle Public Health and pubs including PEN America. And her favorite subjects include body positivity, feminism, healthcare, recovery and community.
You can find her at TatianaGill.com. And of course, I'll be giving you a link in the comments to this.
This coloring book is doubly interesting because I was given the original publication which had a different cover and a different title. The original title was Color Me Thick. And it was such an interesting thing to watch because when Tatiana originally published this, she didn't realize that she was appropriating the word "thick" from African-American vernacular, AAVE. So she actually changed the entire cover. I don't know what happened to the old cover. I assumed she had to [unclear 01:39] that. I don't know, I haven't asked her.
But it's really cool to watch somebody learn and grow and change in real-time instead of finding out something that they had done that was a little bit crappy, and then doubling down. Instead, Tatiana chose to use that as a growing experience and actually changed the cover.
So, this is the new cover because I had the original publication. I cheated. I printed out the new cover and taped it on. So you might see that my taping down is a little messy here. The actual publication looks as it should. And it has a glossy cover instead of this matte that came off of my printer.
But this is the fat positive coloring book. And representation is so cool. It is so nice to have somebody—especially somebody who is not in a very large body themselves—see the need to see bodies like mine and many, many people I know, to make these bodies visible and normalized. It's [tremendously] important.
And that's part of why I review products like this that not only normalize medium-sized bodies, but normalize large and very large bodies.
And I picked a couple of my favorite pages from this coloring book, so you're going to see those.
But this is a whole coloring book of fat people! And if you're not body positive, you're going to be super cringing right now. But if you're not body positive, or you're body positive, and you're not fat positive, you need this. You need this in your life because you need to start seeing that don't look like yours as normal and okay and acceptable. And one of the best ways to do that is to diversify the images that you're taking in.
So, I want to show you a few of my favorite pages from this. I'm going to lean in close. So let's see…
As a unicorn fan myself, my Body Love Box logo has a fat anthropomorphized unicorn on it. This unicorn babe is my favorite thing in the whole coloring book. Also, she's really hot. But that is the fat unicorn in the coloring book. There's at least one. I'm not sure if there's another one.
And look at this. When we talk about representation, we talk about all sizes of body. But I think one of the types of large bodies that doesn't get representation very much is large bodies with small breasts. And it is very difficult, particularly when you live in a very large body and you have proportionately small breasts, it's very difficult to find clothing that's built for you. It's very difficult, even more difficult, to find bras that are meant for you where you have a very large band size, but small cup size.
So, it's really cool to see Tatiana include bodies like that in here as opposed to just fat bodies that are hourglass-shaped or proportional, to see all kinds of fat bodies.
And as a child of the '80s, this makes me really happy, the fat [Kiera].
And I'm not going to spoil the rest of it for you. But even just looking through this, I haven't even started coloring yet, I really enjoy adult coloring books, so I will definitely be using it. But I wanted to show it to you sort of unaltered.
One of Tatiana's color, ready-to-use, illustrations in the form of a particular product is going to be in the June 2019 Body Love Box. So you'll want to check out the BodyLoveBox.com if you want to pick that up. Otherwise, you can find Tatiana's work. You can find this coloring book on Amazon if you just searched for "Fat Positive Coloring Book" or "Tatiana Gill." You can also find her work at TatianaGill.com. So, be sure to give that a look.
This is absolutely worth picking up. It has a ton of pages. This is a huge coloring book. And everything in here is beautifully done.
---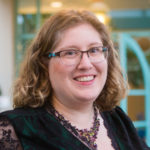 Hi there! I'm Lindley. I create artwork that celebrates the unique beauty of bodies that fall outside conventional "beauty" standards at Body Liberation Photography. I'm also the creator of Body Liberation Stock and the Body Love Shop, a curated central resource for body-friendly artwork and products. Find all my work here at bodyliberationphotos.com.