"Lindley Ashline is a fantastic photographer! She made me feel comfortable and sexy as hell. For those who have said, 'Oh, I'd love to have this done, but. . . ' No more buts except the one behind you. Call her and get them done. You won't regret it."
– Ms. K, Kent, WA
Products
"This woman is so amazing. She made me feel beautiful, and she is a very talented photographer. Check out her work, and book a session! <3"
– Ms. L, Seattle, WA
The Black Book
The siren's spellbook. Be careful who you show it to… there's no known reversal of the inevitable enchantment!
An heirloom-quality classic 8×10-inch album, updated with lay-flat pages that stay open and preserve the center of each set of pages. Choose up to 20 photos to include. Bound in gorgeous black vegan leather (or cover material and color of your choice). From $93
The Mini Black Book
This little 3×3-inch album is perfect to slip in a pocket or purse for weaving enchantments on the go, protected by its frosted slipcover. Choose up to 10 photos to include. Bound in gorgeous black vegan leather (or cover material and color of your choice). Order a matching set or mix it up – your choice. From $46 for a set of two
Additional Session Time
All portrait and boudoir sessions include at least 60 minutes of session time. You're also welcome to add more time to your session at $50 per half hour.
Travel and On-Location Sessions
I'm happy to arrange an on-location session for you, in Washington state or the location of your dreams. Please inquire for custom travel rates.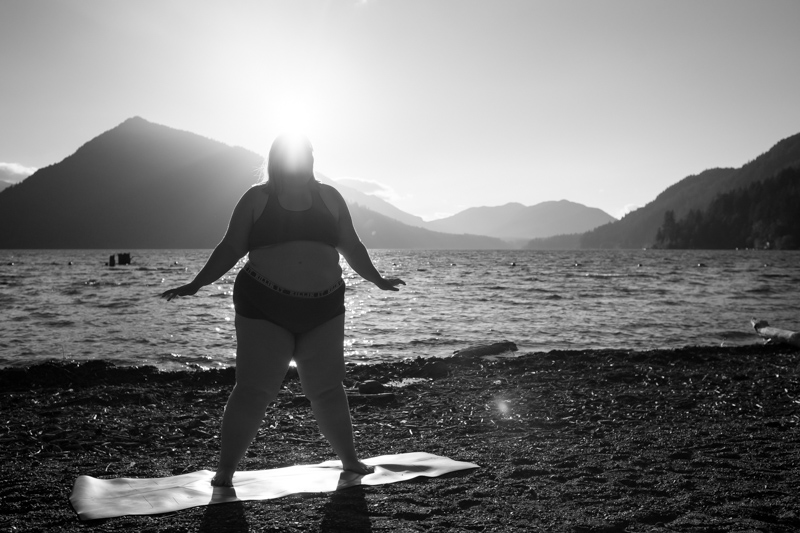 Payment Plans
"Because of Lindley's upbeat vibe, I was able to relax, smile and feel like I had a great session."
– Ms. M, Bothell, WA
If you want your own Body Liberation Photos session but your budget is tight, this is the place for you. I'm making sessions more financially accessible by offering payment plans.
My payment plans are pre-payment, so you build up credit in your account until it covers the session(s) and any product credit you choose. Only then do we schedule your session. This way it's fair to everyone: You have all the time you need to budget for your session, and you don't have me bugging you for months after the session for payments.
Payment Plans FAQ
How do I sign up for a payment plan?
Contact me for instructions.
How does pre-payment work?
» You purchase a pre-payment item(s). The cost of the item(s) serves as your deposit and goes toward the final amount.
» You receive a confirmation email with your payment schedule and a link to your client portal.
» You receive payment reminders each month for four months. You can also visit your portal to pay more at any time. (So you could, for example, pay every two weeks when you get your paycheck instead of monthly.)
» I'll contact you once your balance is paid off to schedule your session.
What is the payment schedule?
» Deposit ($25 per item) due at time of pre-payment purchase
» 25% of the remaining cost due each month for four months
Does a payment plan cost more than paying all at once?
Nope! There is no extra charge for using a payment plan.
What happens if the price of sessions or products increases while I'm paying over time?
You'll be locked in with the prices advertised at the time you start pre-payment. No sneaky price increases. (Caveat: Makeup and hair service pricing is out of my control, so see "Can I pay for makeup and hair using a payment plan?")
Can I pay for makeup and hair using a payment plan?
Yes, but be aware that prices do occasionally change a bit for makeup and hair services, which is out of my control. If my makeup artist increases the cost of their services before your session date, you'll be responsible for paying the difference at your session.
Ouch, if I'm already tight on budget, paying for all my goodies at once might be a problem. Can I budget for that in advance too?
Absolutely! You can always add goodie credits to your pre-payment plan.
What if I don't use all my goodie credits? Will I get a refund?
Yes, you'll receive a refund if you don't want to spend all your credit after your session.
What if I don't want to continue pre-payment, but don't have enough paid into my account for a session?
You can stop your pre-payment at any time and will receive a refund of the money you've paid in, minus a 20% processing fee.
Can I pre-pay for a headshot session?
Sure! Once your balance is $0, I'll schedule you as part of the next regularly scheduled Body Liberation Photos headshot day. You can also schedule a rush session (no waiting for the next scheduled headshot day) for an extra $100.
Refer a Friend
"I love the photos and had a wonderful time! I'm usually extremely self-conscious and critical of myself in pictures. If you have self-image issues and usually feel uncomfortable with professional makeup/photography, Sweet Amaranth is the place to go."
– Ms. L, Seattle, WA
Love Body Liberation Photos photography, but a session isn't right for you right now? Share that love with your friends with the Refer-a-Friend program.
It's the world's simplest referral program. There's nothing to sign up for and no codes to keep track of. Just share any Body Liberation Photos website page or social media post with your friends.
Every time a friend books a session and lists your name and email address as their referral, you get $50 USD. It's that simple.
Here are the rules:
» Your friend must provide your first name, last name and email address (so that I can contact you for payment).
» Your friend must book a full Body Liberation Photos portrait or boudoir session. Mini sessions, mini gift sessions, headshot sessions and parties do not qualify for the refer-a-friend program.
» Your referral must list you on the pre-session survey, pay all fees on time, and attend the event.
» There's no limit to the number of people who can list you as a referral, but each person who books a session can only list one referral.
» Any spamming or other inappropriate behavior in pursuit of referrals will disqualify you from receiving refer-a-friend payments. Seriously, behave.
» Payments are made via Paypal within 10 business days after your friend completes their session and reveal appointment and pays all outstanding balances.