Meet Kathleen Marshall, one of Body Liberation Stock's contributors!
Here's how Kathleen describes herself:
Kathleen Marshall is a San Francisco Bay Area native, transplanted to Reno, Nevada where she lives with her husband, dogs, parrot and chickens. A former theatrical costumer, she currently teaches middle school. She loves fairy tale illustration of the Golden Era as well as multicultural spiritual art.
Flora's Pond came from a dream I had in grad school. I dreamed there was a diner in the middle of nowhere. The owner, a woman named Flora, served up primordial soup to anyone who needed to feel recharged. The soup came from a hole in the floor where the primordial soup of creation had not hardened.
This dream has inspired me to create the work I do. I hope my work inspires people to feel the joy of the universe and know they are a part of it, today, right now, in this moment, just as they are.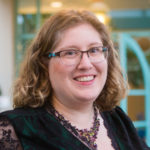 Hi there! I'm Lindley. I create artwork that celebrates the unique beauty of bodies that fall outside conventional "beauty" standards at Body Liberation Photography. I'm also the creator of Body Liberation Stock and the Body Love Shop, a curated central resource for body-friendly artwork and products. Find all my work here at bodyliberationphotos.com.