Today I'm reviewing three dresses from a line called Reborn Collection. I got these via Zulily, which is a daily deals site here in the U.S. All three dresses actually worked out pretty well, though they're all very thin.
This is the thickest-looking of the three. It's sort of a marled fabric and it's still pretty thin. So fair warning, these are not going to be the pieces that you wear for 10 years. They're not going to be very durable. They're also going to be very vulnerable to being picked up. I'm trying not to wear these around my cats because they're not going to last very long.
But the good thing about all three of these dresses is that I really like the shape.
So here's what the grey one looks like. I'll show you the two others in a second. This one has a nice little hood on the back, which I like. This will be nice for winter wear.
For this one, I'm not sure if you would be able to see it in the video, but here in the mirror, I can clearly see some bra and panty lines through this fabric. I didn't wear anything under it right now (besides undies), so you could see what just the dress looked like. But if I'm wearing this out of the house, I would wear it with probably some leggings and a cami underneath, so that I wasn't exposing my bra to the world.
So overall, not durable. But on the good side, it has pockets, I like the lines and it's actually pretty warm. So it's good for winter wear with something under it.
This is the second of the three dresses from Reborn Collection. This one is a nice grey with a pattern on it. When I ordered it, I thought it was flocked, but it's not. It's just printed fabric. It's got a handkerchief hem, which I know some people aren't crazy about, but I like here.
The length on all three of these is really good for me at 5'7". Of course, if you're taller or shorter, your mileage may vary.
This one is going to be nice for summer wear. It's lightweight. It does not have pockets, unlike the one that looks like a sweater dress. But here is the full view around.
And here is number three. I will probably end up putting some sort of bright cardigan with number two and number three because these are not cut beautifully under the arms for me (because I have narrow shoulders). But these will be nice with bright cardigans.
And I think they're all three keepers. xoxo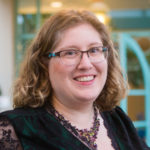 Hi there! I'm Lindley. I create artwork that celebrates the unique beauty of bodies that fall outside conventional "beauty" standards at Body Liberation Photography. I'm also the creator of Body Liberation Stock and the Body Love Shop, a curated central resource for body-friendly artwork and products. Find all my work here at bodyliberationphotos.com.