Ms. L and I met earlier year, and in our two sessions together — four or five months apart — she's just blossomed in the most amazing way.
One of the best things about plus-size boudoir photography is that blossoming. Almost everyone is nervous when they come in, especially women on the larger end of plus size. After all, we're not used to feeling like we "deserve" to be called, or think of ourselves as, gorgeous or sexy or hot. And especially not when we're naked!
But when my clients arrive for their sessions, after just a few moments the nervousness melts away and they feel more free than they ever have to feel that beauty and that power.
For our pre-Christmas shoot, we also had a bit of fun with some silly holiday props!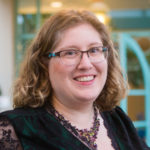 Hi there! I'm Lindley. I create artwork that celebrates the unique beauty of bodies that fall outside conventional "beauty" standards at Body Liberation Photography. I'm also the creator of Body Liberation Stock and the Body Love Shop, a curated central resource for body-friendly artwork and products. Find all my work here at bodyliberationphotos.com.