The boudoir party I hosted in coordination with Fierce Love Yoga was such a great experience! As far as I know, no one else has done an explicitly body and fat positive boudoir shoot like this before, so we're breaking barriers, y'all. <3
Here's the way I described the event, to refresh your memory:
Join Sweet Amaranth and Fierce Love Yoga for a sizzling evening in Snohomish, WA. Wear your sexiest outfit or your most daring lingerie. Dance your ass off or sing along. Flaunt your bod in a private, safe space full of bodies like yours. And enjoy a customized mini boudoir shoot (with your besties, if you want!) during the event with body positive boudoir photographer Lindley Ashline.

This event is for women and femmes only and is centered on people who identify as plus size or fat.
And it was an absolute blast! Flaunting what your mama gave you in a totally safe environment — where you know no one is snickering behind your back, or wondering why you chose to wear that, or doing anything but enjoying themselves. I even rocked an (extremely) little black dress with some serious visible belly outline myself.
Not everyone wanted their images shared, of course, but here are some of my favorite share-able shots from the evening:
"I felt amazing working with Lindley. I was scared coming in that I wouldn't know how to position myself, but Lindley was an absolute pro and helped me along in the session. She was also very positive and body affirming, constantly letting me know how beautiful I looked and how sexy I could be. It was great."
"This was one of the best things I've ever done for myself. Lindley was sensitive to what I needed/wanted and the hair and makeup made me feel gorgeous, and everyone was so nice. I was kind of worried I would end up in a corner twiddling my thumbs or something, but it was really fun. We didn't dance much, but that didn't mean we weren't having fun."
xoxo,
Lindley

Get more information about working with me: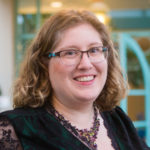 Hi there! I'm Lindley. I create artwork that celebrates the unique beauty of bodies that fall outside conventional "beauty" standards at Body Liberation Photography. I'm also the creator of Body Liberation Stock and the Body Love Shop, a curated central resource for body-friendly artwork and products. Find all my work here at bodyliberationphotos.com.