Image description: A small houseplant with round fleshy leaves, called a peperomia hope, sits in a round terra cotta bowl on a white desk.
I've been gardening and generally mucking around with plants for many years, but this year — like many bored, stuck at home folks — is the first year I've gotten serious about houseplants. I may have gone a bit overboard, as one does when one is me, and went from, I dunno, five or six plants (mostly jade plants, all children of one hard-living Ikea specimen, and one enthusiastic spider plant) to 65 or 70, depending on whether you count pieces of plants that are currently propagating.
My plants are making me so happy, especially now that the Seattle gloom has set in for the next eight months, so I thought I'd start sharing some details here.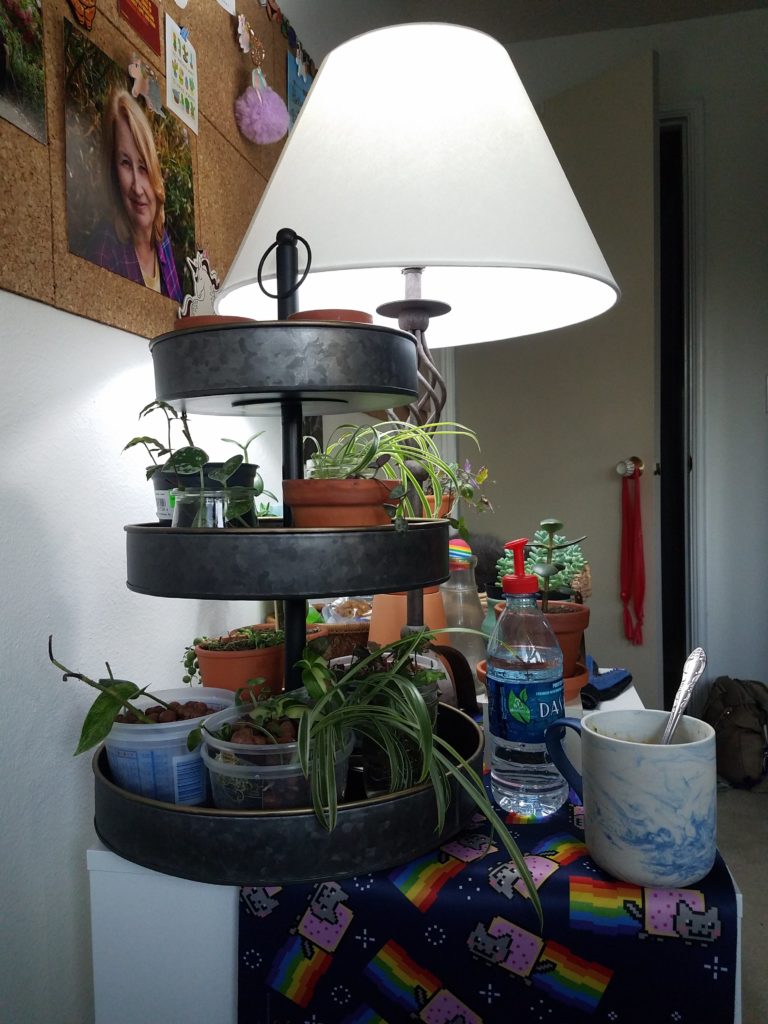 This is my current plant propagation setup. I'd had a little setup on a table next to an eastern window while it was warm, but I was worried the dining room would be both too dark and cold for propping now that it's winter, so I moved them all up into my office where I run a heater during the day.
The metal stand is a dessert stand from Target, and the lamp has a grow light bulb in it. Every day I rotate the metal stand so different plants get light, and the other plants just get rotated in place occasionally.
Don't take this as advice, by the way. I have very little idea of what I'm doing, so this is all a learning process.
From the top down, in the stand, are:
Jade plant leaves in teeny terra cotta pots (not really shown)
Spider plants, pothos, tradescentia, what's left of a string of hearts on the second tier, divided between water, soil and leca
More spider plants, more tradescantia, a rose cutting, what's left of a string of pearls, more pothos on the bottom, all in leca or water except the pearls, which are in soil
The freestanding plants are, front to back and more or less counterclockwise:
Jade plant
Burro's tail sedum
The last gasps of my bridal veil tradescantia, which was A Learning Experience
Another jade plant hiding back in the corner
Along with my snack basket, a glass milk bottle of cat treats, Blue's grooming glove, a bottle of water with a plant-watering tip on it, and an empty cup post-soup (oops).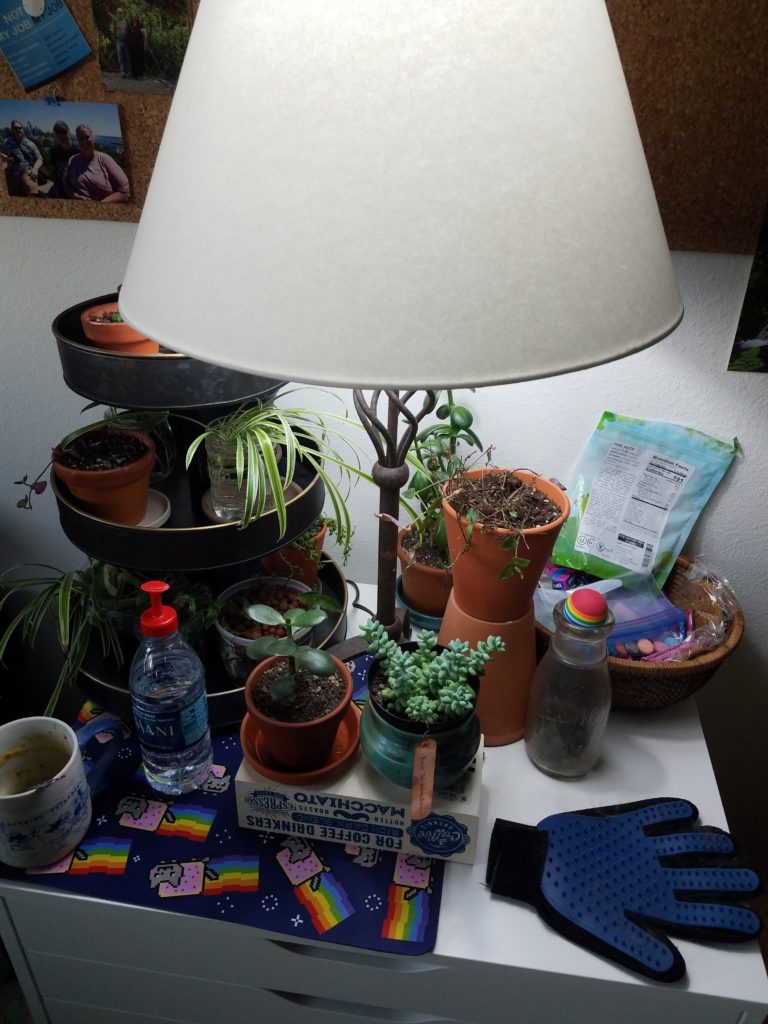 Things I have learned recently:
1. It is possible to propagate rose cuttings, though I've yet to succeed. I tried a cutting from my Joseph's coat climbing rose in wet sand, which promptly died, and one in leca, which grew very promising roots and then got moldy and died. I'll try again in spring; it's a bit too late in the year now.
2. Succulents and strings of things may not be my strong point; I've killed most of them so far with overloving and overwatering. I didn't bother replacing the string of pearls or variegated string of pearls, they're a bit too expensive to keep killing and I want to increase my skill level first. I did replace the string of hearts with a slightly larger, more established one, and it's currently happy on my office windowsill (west facing). I'm trying very hard to resist watering it.
3. I love tradescantias but they're unsure how they feel about me.
4. When bottom watering, maybe don't wait until every bit of soil is soaked through and it takes an actual month to dry out. It deprives the plants of oxygen. I'm still working on the right bottom watering technique.
5. Also maybe don't water the bigger pots from the bottom, it makes them extremely heavy and, again, takes forever to dry out. Maybe water those sparingly from the top instead.
6. Leca is freaking magic.
7. Spider plants like being propagated in leca even more than they do in water, and they like water just fine.
8. It's true that putting a pothos cutting in with other cuttings in a container of water will make everything else root faster. I have no idea why it's true, but it totally works.
9. If you overwater hope peperomias, their leaves will curl up into cute little tragic upside-down bowls and then fall off. Whoops.
10. I tried to root a bunch of the sad remnants of my bridal veil tradescantia in water, water with a pothos cutting, leca, and soil. The cuttings in water with a pothos cutting are doing BY FAR the best.
11. Living 15 minutes from a great nursery is dangerous.
12. Sticking my holiday cactus (did you know that in addition to Christmas cacti, there are Thanksgiving and Easter varieties, and they're actually tropical rainforest species from Brazil?) in the closet at night is actually making it bloom this year! Remembering to stick it in the closet every night and pull it out every morning is not my strong point, though, so it's had some long dark days in that closet.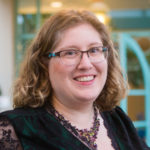 Hi there! I'm Lindley. I create artwork that celebrates the unique beauty of bodies that fall outside conventional "beauty" standards at Body Liberation Photography. I'm also the creator of Body Liberation Stock and the Body Love Shop, a curated central resource for body-friendly artwork and products. Find all my work here at bodyliberationphotos.com.