This lovely piece is one of a set of fusions of Baroque and Brazilian music by the Brazilian composer Heitor Villa-Lobos. (Thanks, Wikipedia)
This isn't a recent video, but I'm re-sharing it as a way of releasing old body shame. When this video was taken, I was bothered by the way my fat body moved on stage, and even more distressed by listening to my own voice. I wasn't able to give myself the grace and vulnerability of acknowledging that I was learning and growing, but now I'm ready to extend that love to myself. I belonged on that stage, I still do, and I always will.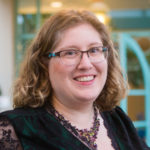 Hi there! I'm Lindley. I create artwork that celebrates the unique beauty of bodies that fall outside conventional "beauty" standards at Body Liberation Photography. I'm also the creator of Body Liberation Stock and the Body Love Shop, a curated central resource for body-friendly artwork and products. Find all my work here at bodyliberationphotos.com.