As you know, I've been recovering from long-term sleep deprivation caused by sudden-onset sleep apnea after major dental work last year. It took months to get a diagnosis and treatment.
I'm so happy to be somewhat back to normal, thanks to my CPAP machine.
I have better days and worse days, and I'm still struggling with brain fog. My physical stamina was completely wiped out and I'm having to slowly rebuild it. I get tired easily, and I now have persistent back pain thanks to my pre-CPAP attempts to sleep propped up on the couch.
I'm not thrilled about wearing something clunky on my head every night, but it's far preferable to my previous state.
Button: CPAP Proud (Mask)
Every night I have good sleep, a little bit of my pre-apnea normal is restored. Every night I have poor sleep, rather than just being tired the next day, I get pushed back into what I've been calling my zombie state. It often feels like one step forward, three steps back.
But I no longer have the complete deep exhaustion and cognitive impairment that made getting through each day an ordeal. I've found the right combination of mask and headgear, so I no longer have open sores on my face from mask rubbing.
I'm not quite ready for new clients yet, but I'm picking back up with my existing clients, who've been so gracious about my unplanned hiatus.
This photo was taken at the hipster-industrial Oregon hotel we stayed at a few days ago. Since we were staying there anyway, I was hoping the room would serve as kind of a cool and modern backdrop for photos, but it mostly just looks grim. Ah well. Raymond took photos of me wearing my headgear anyway, and we'll be releasing the better ones as stock photos at Body Liberation Stock.
Normalize CPAP machines. Normalize sleep apnea care. Normalize good care for fat folks.
Image description: Lindley, a fat white woman in CPAP machine headgear and a gray robe, sits on a bed in a hotel room with white sheets and smiles.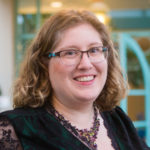 Hi there! I'm Lindley. I create artwork that celebrates the unique beauty of bodies that fall outside conventional "beauty" standards at Body Liberation Photography. I'm also the creator of Body Liberation Stock and the Body Love Shop, a curated central resource for body-friendly artwork and products. Find all my work here at bodyliberationphotos.com.