One of the best, tried-and-true methods of developing a healthy and positive body image is to get used to seeing all kinds of bodies — and the best way to do that is on social media.
Curating your media sources and social media feeds to eliminate bad body image influences and include more diverse bodies is one of the fastest ways to build your self-esteem.
For fat and very fat people, though, it can be challenging to find bodies like ours on social media. Not only are people in very large bodies less likely to want to show those bodies regularly online — given that fat people are constantly harassed, trolled and doxxed for speaking up — even the very algorithms that run social media sites display anti-fat bias.
That means that those of us who are significantly fat can have trouble finding bodies like ours, but no longer.
Here are more than 40 Instagram accounts of fat, very fat and superfat people to follow. This list runs the gamut, from famous activists and influencers to people just living their lives. Some of these folks may identify as fat, very fat, largefat, superfat, infinifat or none of the above.
It's important to remember that every single person on this list is a full human being with their own priorities, rights, preferences and choices. They don't exist purely to inspire or be role models, and they're definitely not here to serve as trauma porn or to make people who are thinner than they are feel better about their relatively-smaller bodies.
(That means that if you catch yourself thinking, "At least I'm not THAT FAT," you probably need to take a step waaaaay back until you can view and interact with very fat people as people, not objects.)
It's also important to understand that none of these folks owe you anything. While they may offer education or wisdom on their social media accounts, their lives aren't necessarily an open book. Don't pry, ask them weird questions or demand that they educate you.
And if you find the work of someone who's listed here important to you, find a way to support them! Like, share and comment on their posts, subscribe to their Patreons, buy their products or services, or contribute to their Paypal, Venmo or Cashapp.
Want to see someone added to the list? Just drop me a line.
Image description: A blue square with round photos of some of the people featured in this post, with the post title.
Adrienne is a video content creator, writer, speaker, and podcast host and above all, a Black woman in a larger body who actually represents the community she serves. Adrienne uses social media as a platform to create visual content that allows her to take back ownership of her body and restore the narrative of how it is portrayed in the media.
Twitch Affiliate🕹She/Her Demigirl 💄 Fat Activist 🐖 Bisexual Queer
Anna is a fat creator, extended plus fit model + strategist, brand strategist, podcast guide and accessible yoga teacher. Size inclusion work is rooted in care. Anna strategizes for the humans who need to be served. Anna believes radical thinking starts at the root and breeds innovation.
4. Ash @fatlip.ash
Ash is a podcast-obsessed indignant fat person, and eventually it was just silly *not* to bring everything she has to say about fat life to the medium of podcasting. She is 500+ pounds of skepticism and CocaCola. She loves cats, art, and Canadians.
Your Fat Friend writes about the social realities of life as a very fat person. Her work has been translated into 19 languages and covered around the world. She writes about health, weight stigma, and fatness.
Radical softness 💕
My personal sanctuary – @garrettwaded 😌💖
Faux fur ears shop – @fatfoxfurs
She/her
100% baby
9w8
♌️🌞 ♈️⬆️ ♍️🌙
Fat fashion, makeup, lifestyle, and skincare
BARB
Have a bf, I do it for the girls & the gays that's it✌️
fat queer tejanx visitor to Huichin, Ohlone land (bay area, CA). writing & envisioning fatter strategies toward freedom. Caleb Luna (they/them) is a fat queer (of color) critical theorist, performer, poet, essayist, cultural critic, and performance scholar. As an activist political thinker, they are interested in engaging embodied difference as a generative resource toward fatter understandings of collective freedom.
The Divine Feminine—
Goddess in the Flessshhhh 🖤⛓🕯
Yaqui & Maya, indigenous proud 🌵🌹
Corrisa is a 34 year old happy fatty from the Midwest, USA. Over the last few years Corrisa has been on a pretty thrilling journey to unlearn a lot of bullshit that society has taught her about her body and how she should feel about it. The journey isn't over, and it turns out she learns more about herself and her values every day… so she's decided to share all of that with you!
A plus-size woman posting her journey of challenging body norms and encouraging women of all shapes and sizes that everyone is beautiful.
Dani Adriana is a 28-year-old fat activist and lived experience peer support advocate from Brisbane Queensland, Australia. From a young age, Danielle suffered through eating disorders, excessive exercise addictions, depression, horrendous body image and anxiety. Her content initially started on Instagram in 2013 during her initial stages of eating disorder recovery. She created a supportive community in response to the easily accessible pro-eating disorder content found online. Since 2013 Dani has expanded her content online to include magical things like fat activism, mental health awareness, self-care and body positivity. Dani also creates, facilitates and holds workshops worldwide around body image, peer support and community connection.
Danielle is a Youtuber, maker, and Shopify Expert. Her content centres around plus size fashion, inclusivity and giving you a behind the scenes look at her business. Danielle started her Youtube channel 5 years ago by teaching herself how to film and edit videos, now it's grown to over twenty thousand subscribers and three million + views.
14. Da'Shaun L. Harrison @dashaunlh
Da'Shaun Harrison is a Black trans writer, abolitionist, and community organizer in Atlanta, GA. Harrison currently serves as the Managing Editor of Wear Your Voice Magazine, and is author of "Belly of the Beast: The Politics of Anti-Fatness as Anti-Blackness." Harrison is also a public speaker who often gives talks and leads workshops on Blackness, queerness, gender, fatness, disabilities, and the intersection at which they all meet.
A naturopathic doctor in Portland, OR practicing from a Health at Every Size perspective. DeAun believes health looks different for each of us and we all come to it via different paths. While we have control of some aspects of our health, there are things that affect our health over which we have little to no control. It is her goal to help her patients mitigate the things we do not have control over as much as possible and highlight each person's individual strengths and abilities.
The historical fashion adventures of a thoroughly modern woman.
Digital Creator #BeYourOwnBeautiful
⚕️Mental Health Advocate
❣️Self Love from the Inside-Out
💓Respect and compassion for all sizes
Extended Plus Model
Content Creator
#blerdgirl
Chicago Drag queen, Artist, and disability educator.
Hannah is a counselor, activist and educator. She shares her personal and ongoing experiences with fatphobia and sexism to help other people free themselves from the prison of self hate and internalized oppression. She practices from a HAES and fat liberation lens. Her aim is to create a space of collaboration and empowerment.
Comfy Fat is a place to talk about all things fat activism and accessibility. Travel, self care, resources, and more. Lets make the world more comfortable!
Jervae is an artist who transcends every form. The intersection of Social Justice & Spirituality. Artist turned Social Worker turned Fat Liberationist.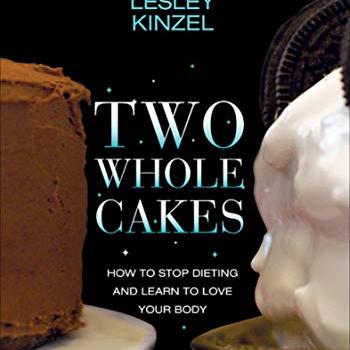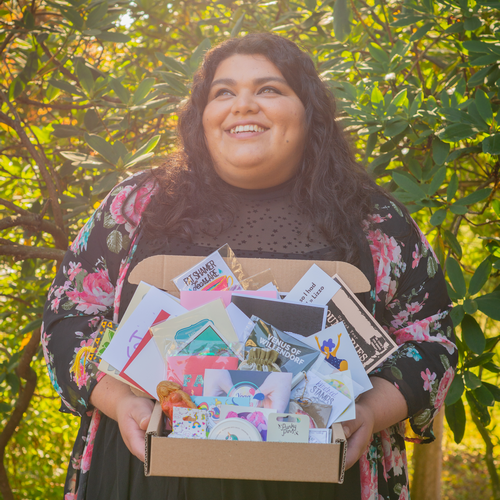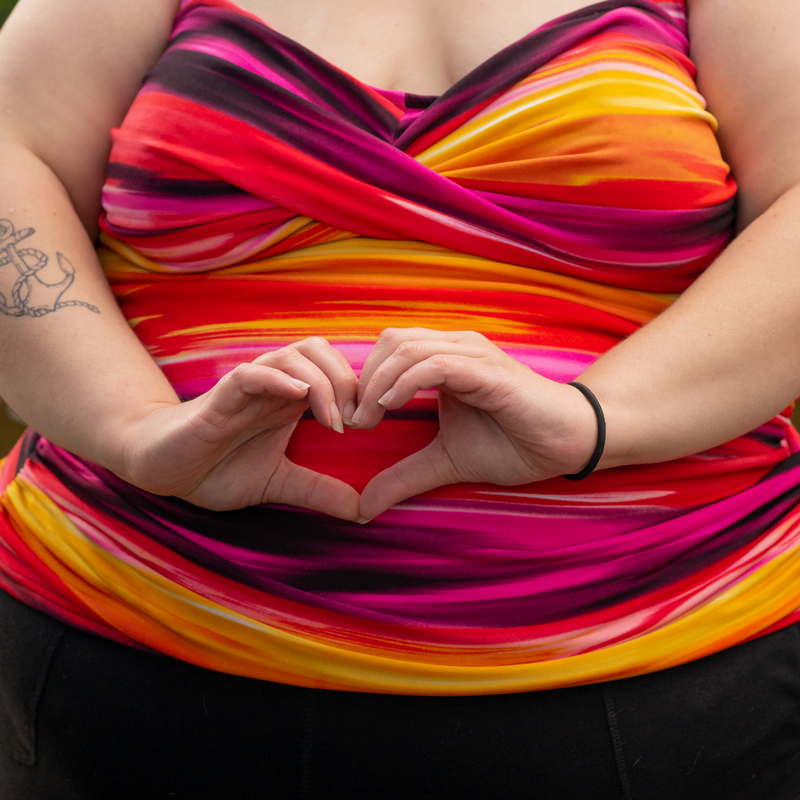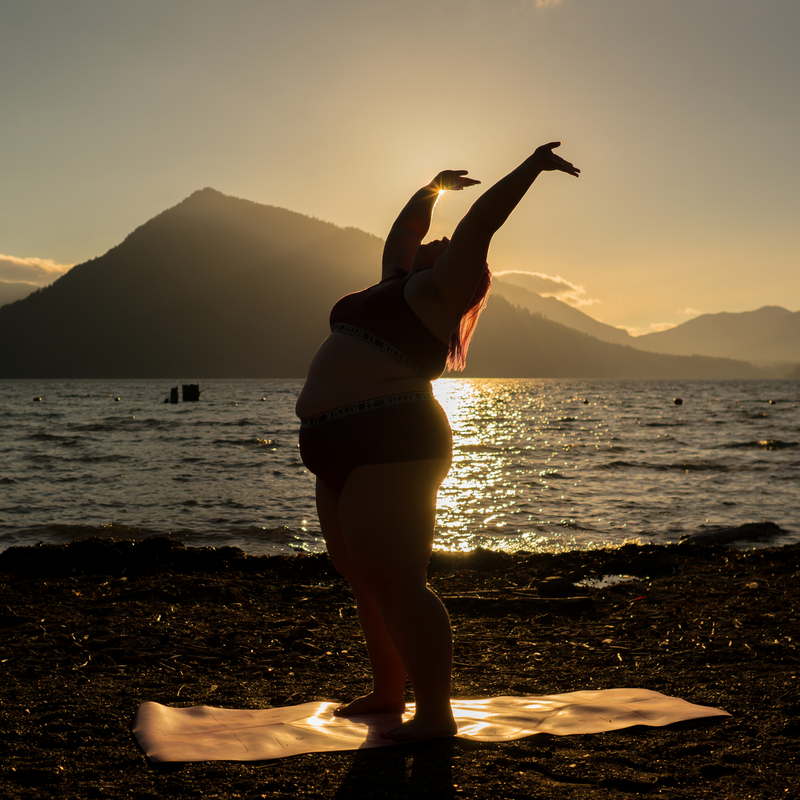 Jess is a 32 year old mother of two. She is currently an adult entertainer and super plus model and wanna be fashion influencer. Her real passion is art including digital art, tattoo design, painting and trinket making.
Joy is a social justice advocate that uses her skill set in research and leadership to foster social change through the promotion of REAL diversity and inclusion initiatives. Much of her work has focused on matters of intersectionality addressing race, body size, accessibility, and "health" within the context of body acceptance and fat liberation.
Fat babe, wife, and curious human in California ☀️🌈
39|Fat/Black|MSW U/S- therapist|Activist|Powerlifter|BLM| FatPositive|#freepalestine|Anti-Diet|BA Athlete|📍stolen land/Oklahoma|
Kat loves inspiring women to push their own boundaries and dress the way they truly want by investing in garments that make them feel confident! As a mom she shares her adventures with parenting and all the ups and downs that accompany it. Plus a wide range of topics that just so happen to strike her fancy.
Katy is a Brand Marketing Consultant, Artist, and Curator. Her personal passions include poetry and photography and there is always a book in the works. She has a way with words and received her BFA in Creative Writing.
Personal Blog about Kelly's big fat life.
Kelly is a photographer creating Chicagoland portraits. Free sessions offered for BIPOC & trans folks. A Body liberationist, Kelly speaks from their experience of being Nonbinary, autist, ED recovery and white.
fat emo bimbofication
Lilith is an actress and model. She appears mostly in horror movies. Her love for horror genre has also extended into her modeling career as the first plus size model in her size category for goth brands Killstar, Too Fast, Sourpuss, etc. Lilith is latina, indigenous, queer, and disabled, and has made it her mission to help provide representation to those who otherwise go unacknowledged. Her hope is to bring body positivity to the world of horror.
33. Sarah Thunell @bodypositiveparenting
Sarah Thunell Parent Coaching she/her
Personal Coach
Parent Coach: Respectful infant care, Toddlers 101, Positive Discipline for school aged children and teens, How to even
Activist: Celebrating size diversity, raising kids with healthy body image, play first education
Queer Fat Punk | Plus Model | Musician
Austin, TX
2 Fat, 2 Furious. Animal lover, B-movie enthusiast, cat lady, writer of excessively long emails, Oxford comma supporter, tree-hugging techie.
Lindley is a photographer, fat activist, writer, cat mom and houseplant collector. She is passionate about photography because through her work people who don't see bodies like theirs represented anywhere else get to reclaim their self image.
🌸 British
🌸 Beauty & Fashion
Big body, big thingz. Fat liberationist, writer, PhDc @brownpublichealth. BX all day, ECG 5ever. Coming soon: @breakeveryscale.
Meagan is a a 36 year old Māori woman living in Auckland, New Zealand and blogging about style, self love and life as a fat chick. She started blogging specifically about plus size fashion for two main reasons – the first is that she is a plus size woman herself and as someone who has been fat all of her adult life she understands how difficult it is to find nice clothes for plus sizes in New Zealand that are reasonably priced. The second is that the existing dedicated independent plus size fashion media in New Zealand was extremely limited.
Miranda is the creator of The Plus Life Blog. After a decade in Corporate America, she gave it all up to pursue her passion of inspiring and equipping other plus size women to live their best lives. Here at The Plus Life, you'll find a lot of plus size fashion along with lifestyle topics like home décor, cleaning/organizing, recipes, motherhood, confidence tips & tricks and more.
writer, consultant, educator fighting weight stigma in public health & medicine. I block bots, creeps & diet accounts
🏳️‍🌈 she/her/hers 🖥 central pa 💜
Ragen is a Speaker, Writer, Dancer, Marathoner, ACE Certified Health Coach and Functional Fitness Specialist, in Training to be an Iron-Distance Triathlete, Activist, and Real Live Fat Person!
43. Saucyé West @saucyewest
Saucye West is a plus model, fat fashion influencer and fat activist. She does consulting and marketing for plus size brands who are interested in expanding their sizes beyond 5X. Saucye also started the hashtag and movement for #fatandfree in 2017. Challenging people to live and love their fat bodies without apology.
44. Shannon Kaneshige @fringeish
Shannon Kaneshige (they/she) is a fat non-binary yoga practitioner and instructor (RYT200), sociologist, and parent. They help folks use their practice to reconnect bodies and learn to take up space on and off the mat.
Professional Fat Babe
PDX Lifer
Lover of Tea 🫖
Pluviophile 🌧
Designer/Seamstress🪡
Fantasy/Sci-fi nerd🖖🏻
BLM ❤️
Just trying to be happy ☺️
46. Sugar McD (Shoog) @shooglet
Shoog McDaniel is a fat, queer, Floridian freak who has been creating art in the swamps since an early age. They are inspired by Florida flora and fauna and the beautiful fatties they photograph. They love color and patterns and creating alternative worlds to escape the one they're in. They are a photographer by trade and themes of nature worship and fat liberation can be seen throughout their work.
Digital Creator. Google is free ♀️
I'm going to change the world
𝑾𝒆𝒅𝒏𝒆𝒔𝒅𝒂𝒚 𝑭𝒂𝒕𝒕𝒂𝒎𝒔 she/her
🥀 🕯 ✞ 💀 ☽ 🦇 🥀
🕷𝕊𝕡𝕠𝕠𝕜𝕪 𝕓𝕒𝕓𝕖
🕸 𝕌𝕟𝕒𝕡𝕠𝕝𝕠𝕘𝕖𝕥𝕚𝕔 𝕗𝕒𝕥𝕥𝕚𝕖
🕷 𝕄𝕒𝕜𝕖𝕦𝕡, 𝕗𝕒𝕤𝕙𝕚𝕠𝕟 & 𝕗𝕒𝕥 𝕘𝕚𝕣𝕝 𝕥𝕙𝕚𝕟𝕘𝕤
🕸 𝕊𝕔𝕠𝕣𝕡𝕚𝕠
🕷 𝕊𝕚𝕫𝕖 𝟚𝟠
🕸 𝕀𝕥'𝕤 𝕠𝕜𝕒𝕪 𝕥𝕠 𝕝𝕠𝕧𝕖 𝕪𝕠𝕦𝕣 𝕗𝕒𝕥 𝕓𝕠𝕕𝕪
♡ 𝕖𝕟𝕘𝕒𝕘𝕖𝕕
49. Natalie @bodyposibarre
Natalie she/her
Fitness Trainer
IBBFA Certified virtual Barre Instructor
📍Austin
Sprinkling in fat liberation + joy when I can
Suma Jane 🌙 they/them
Photographer
Boudoir photographer, model, and writer. Lover of cool places, long naps, and vegan treats. 🌈
Say hi: [email protected] 📍 PDX/LAwww.sumajanedark.com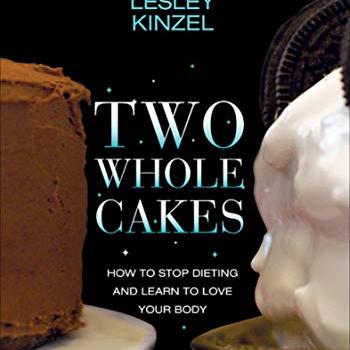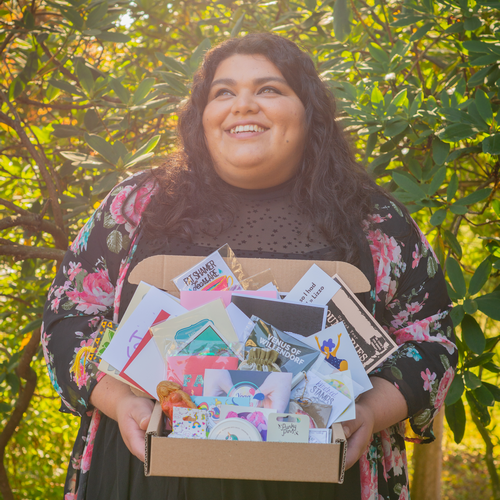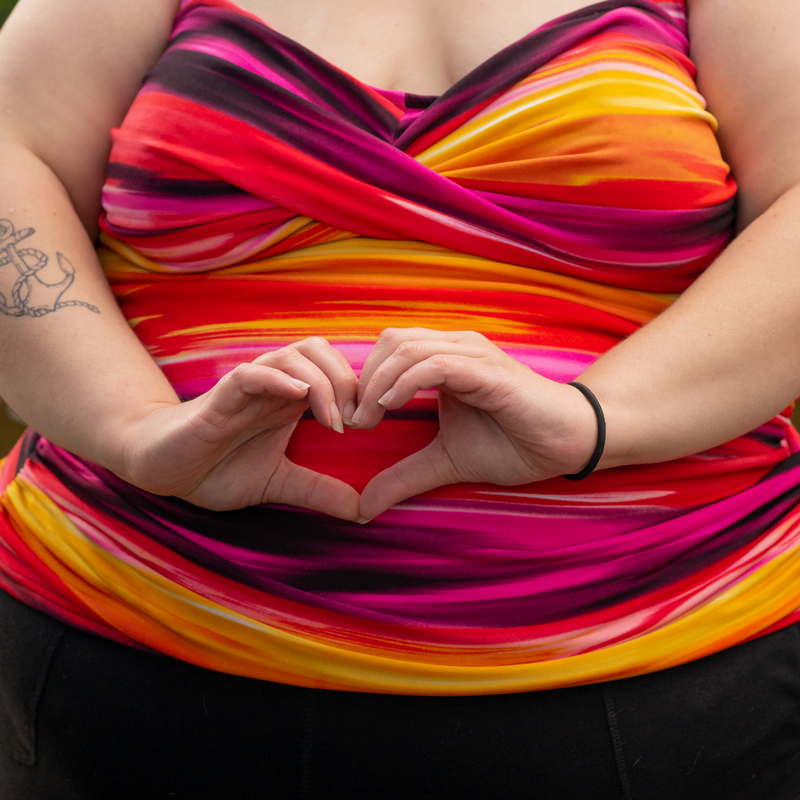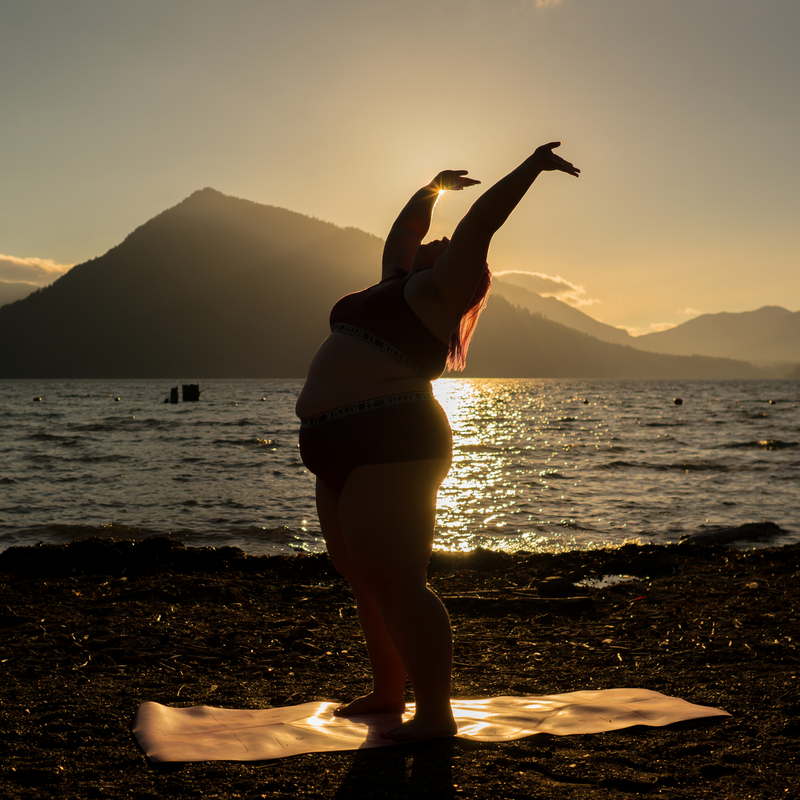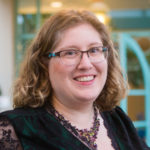 Hi there! I'm Lindley. I create artwork that celebrates the unique beauty of bodies that fall outside conventional "beauty" standards at Body Liberation Photography. I'm also the creator of Body Liberation Stock and the Body Love Shop, a curated central resource for body-friendly artwork and products. Find all my work here at bodyliberationphotos.com.