When fat people are systemically denied full participation in public life, we're also denied educational opportunities and entire careers.
One particularly frustrating example of weight stigma is the way that most colleges, universities and other places of higher education are designed to exclude fat folks by the simple method of filling classrooms with desks in which we don't fit.
Of course it's possible for us to advocate for ourselves, but it's unfair and exhausting to have to do it over, and over, and over again simply to try to access the same experiences people in more privileged bodies receive automatically.
Ali Owens is the author of Bad Fat Person: A Reflection on Plus-Size Bodies in a Cookie-Cutter Culture, and graciously gave me permission to share this piece they wrote on their personal timeline about returning to campus in a fat body.
◇─◇──« »──◇─◇
It's been such a confusing and intense day.
It was my first time back on campus at all since December of 2020, and my first time on campus full time in seventeen years. There's so much to love. The energy of being embroiled in academia is exciting – like a spark in the air. Campus is beautiful. It's good to be back in the classroom, learning in person again. My classes seem very interesting; I love the things I'm studying and knowing that I am working toward a great future. In short, school is awesome.
Alongside all this is the reality of Learning While Fat. It goes like this.
•
9:30am. I enter my Feminist Theory class, and the first thing I notice is the desks. They're the one-piece kind with the table molded to the side of the chair. I slide into one. My body doesn't really fit; three-quarters of my left ass cheek hangs off the side, and the desktop digs painfully into my abdomen. I am distracted by pain and discomfort, which
I know will impact my ability to learn and retain info. I want to stick around and talk to the professor, but I've only got fifteen minutes to get across campus for my next class, so I make a mental note to send her an email asking for accessible seating options.
•
11:00am. Upon entering my Science and Technology in Society class, I am momentarily bewildered as to how I am even supposed to enter. The room is comprised of tables accommodating two chairs each, but they have been pushed together to form long chains of tables with no aisles in between and very little room between the chairs and the row of tables behind them. The spaces around the edges of the tables are too narrow for me to walk through, so I stumble over a few seated people and plop down in the only chair I can actually physically get to, which is all the way in the back.
When class ends, I approach my professor and explain the situation to her. I ask if it's possible to move the tables in such a way that I can get around the room more easily. She is extremely understanding and works out a table arrangement with me right then and there, which I appreciate.
Still, I don't love the fact that I had to draw attention to the size of my body in such a way. It feels dehumanizing and embarrassing.
•
2:00pm. After lunch, I make my way to Quantitative Sociological Analysis. I notice with dismay that I'll be dealing with minuscule desks again, and that they are even worse than those in my first class. These are the kind where the armrest folds down along the side, and when I take a seat and attempt to put the desk top in place over my lap, I realize right away that there is no way this will work. The desk top stops at a sharp slant, unable to lie flat because of my belly and thighs in the way, and the angle is such that I will not be able to set anything on it, use my laptop, or even take handwritten notes.
I look around the room. There are no other seating options except a table designated for wheelchair users. No one is sitting at it. I get up and approach the professor before she begins class. "Excuse me," I say. The room is small and quiet, and I am very aware that everyone in the place can hear me. "I don't fit in these desks."
She looks horrified, though not at me; horrified in the way people are when their attention is suddenly drawn to a privilege they've always taken for granted. "I'm so sorry," she says, but then seems to not know what else to do. I gesture toward the wheelchair-accessible table. "Do you know if anyone will need to use this? If not, can I sit there?"
She tells me to use the table and that we will figure something out if someone comes in using a wheelchair. The table is conspicuous, and so am I. I know everyone is thinking about my size, which is not at all paranoid, given the fact that I just had to publicly draw attention to my fatness. Once again, I feel humiliated and dehumanized.
•
3:30pm. My last class of the day, Global Environmental Issues, is in a room I am familiar with, so I at least know what to expect. It's an auditorium with rows of tables in a stadium-seating arrangement. Once again, there is very little room between the rows, and I cannot walk down them without turning my body sideways. I cannot walk down them at all if people are already seated. This wouldn't be a big deal if I could always make sure I am one of the first to arrive. However, I am coming from a class across campus. That prior class let out early today, which means I have arrived at this class early and have chosen a seat without incident.
On a normal day, however, I will likely be one of the last people to enter the room, and unless a seat on the end of a row is open, I will have to ask people to leave their seats and exit the row completely in order to have access to an empty chair. I really, really do not want to have to do that, and I am almost certain that at some point, I will have to.
•
I love school. I love learning, and I am so grateful to be experiencing higher education.
And, I would enjoy it even more if I wasn't constantly in my head, doing all kinds of mental gymnastics about where I can sit and which spaces I'll fit into and how I can avoid squeezing up against other people in tight places and what areas are physically accessible to me.
I am proud that I advocated for myself today, and that I stated my needs to a couple of my professors. I am also sad that I had to do that, because I shouldn't have to.
Edited to add:
I hesitated even posting this. The voice in my head said I'm asking for too much, expecting the world to bend over backwards for my fat ass, all the usual stuff.
But at the end of the day…how much am I really asking for? All I want – literally all I want – is the ability to sit in chairs and learn. That should never, ever be too much to ask for anyone. Period.
◇─◇──« »──◇─◇
Ali Owens (they/she) is a fat white queer non-binary writer, creative, and activist. A survivor of domestic violence, sexual assault, and mental illness, they commit their life and work to challenging oppressive structures and advocating for new ways of being rooted in revolutionary compassion, liberation, and justice.
At the age of 36, Ali went back to college for the degree she never finished almost two decades previously. They are currently a full-time student at Colorado State University, pursuing dual degrees in Sociology and Women's & Gender Studies, with a minor in Creative Writing. They are also part of the creative team at Ominira Labs, a post-capitalist oriented anti-oppression consulting firm.
Ali's favorite things are rainy days, the smell of old books, Mediterranean cuisine, feeling cozy, and smashing the white supremacist capitalist patriarchy. She believes firmly that healing ourselves heals the collective. Their superpowers are empathy, finding beauty in unlikely places, and using creative expression as fuel for powerful positive change.
Bad Fat Person: A Reflection on Plus-Size Bodies in a Cookie-Cutter Culture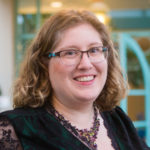 Hi there! I'm Lindley. I create artwork that celebrates the unique beauty of bodies that fall outside conventional "beauty" standards at Body Liberation Photography. I'm also the creator of Body Liberation Stock and the Body Love Shop, a curated central resource for body-friendly artwork and products. Find all my work here at bodyliberationphotos.com.