Something I'm a little ashamed to admit is that photography, as a skill and an art form, at times both highlights and reinforces the conventional standards of beauty that trap us within ourselves and keep us striving to look like the impossible beacons of perfection we see all around us in the media every day.
There are rules about bodies, and we're taught them right along with the correct exposure for a gloomy day and the best way to get that dreamy look where everything around your subject fades into blur.
One of the "rules" I've been taught as a photographer was that, even in boudoir, you don't show underarms if at all possible. Armpits are ugly. They're unladylike. Avoid.
It was a March morning and Siren L and I slipped outside to take advantage of the first day of sunshine. It had been raining for months and this first watery light felt like a promise. Who could stay indoors?
She walked delicately across the moss-lined bricks of my pathway and stopped before a tree stump in my garden with a flat top shaped like a heart. As if in a dream, she stepped delicately up onto the stump in her bare feet and into a remembered ballet pose, lifting her face to the sky.
As this beautiful woman raised her arms and I angled around the blueberry bush with my camera, I remember thinking "Oh no, underarms aren't very attractive and you're not supposed to show them, they're not ladylike."
And then I went ahead and took the photos anyhow. Because you know what? Fuck ladylike. Fuck attractive.
I could have stopped her, and asked her to strike a different pose, and ruined the moment and her sheer joy in breaking free and moving in delightful ways, all for the sake of someone somewhere disapproving because "armpits aren't attractive." I could have stolen her joy and sent her away feeling just that little bit more ashamed of her body. From then on she'd have been just that little bit more cautious not to raise her arms in public, not to act anything but drab and dull and careful.
Instead I raised my camera, and Siren L raised her arms, and we captured this perfect moment in the tentative spring sun, and her armpits — which are just fine — are overshadowed by her freedom and delight.
And that's why I do this.
xoxo,
Lindley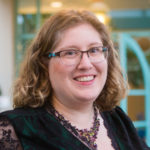 Hi there! I'm Lindley. I create artwork that celebrates the unique beauty of bodies that fall outside conventional "beauty" standards at Body Liberation Photography. I'm also the creator of Body Liberation Stock and the Body Love Shop, a curated central resource for body-friendly artwork and products. Find all my work here at bodyliberationphotos.com.