This is the first post in a series on exploring and navigating the world with a fat body and an anxiety disorder. See all the posts here.
Let's say that you're tired.
You've been handing sweat, blood, tears, and bits and pieces of your inner life to the internet, and the internet is an endlessly empty maw.
You're very, very tired. And your well is empty.
When you sign up to attend and to sell Body Love Boxes at NAAFA's 50th anniversary conference, you leap at the chance to drive from Seattle to Las Vegas and back and make a real, proper road trip of it.
Three weeks. Just you and the land. A chance to reset and fill the deep well that you've been scraping the bottom of for so long.
Armed with a car full of supplies, exhaustion, and an anxiety disorder, you set out to explore the American west.
You've got a tentative itinerary, but you're trying to leave lots of space for surprises and not overplan, so you give yourself permission to make changes and detours as needed. Your partner is delightfully supportive of your trip (although he couldn't come along due to work), so you feel supported and as confident as possible, given how many unknowns there are in exploring new places.
---
Day 1: Seattle to Coeur d'Alene, Idaho
"So I'm gonna take it easy on me
I'll find an open highway
Then I'll drive, drive, drive
Till I'm free from heart to mind" – Heart to Mind, Alex G
You've been planning and anticipating this trip for months, so you hop in your car bright and early, eager to get going. You have a new addition to your car: a cheap Thule cargo carrier — holding your Body Love Box merchandise, your camera tripod, some camping incidentals (hammer, outdoor extension cord), a heavy jacket, and scarves to cover your car windows if needed — which will provide both useful and a right pain at certain points of your trip.
Taking I-90 east from Seattle is both beautiful and familiar: the gradual ascent into the Cascade mountains; the loud, rough concrete of the road; Mount Sai on your left as you pass North Bend; the swooping curves through Snoqualmie Pass; long, pretty Keechelus Lake on your right; the way the land gets gradually more dry as the miles pass.
You stop at one of your favorite rest areas, Ryegrass, to stretch. The June air has been bright and clear so far, but there's an ominous smudge on the horizon, white smoke billowing in the distance. You figure it's a wildfire, and you're right: As you drive on through the canyon curves and descend to the Columbia River, the smoke tower grows larger, and when you reach the river you can see it's just on the other side.
You stop and take a few photos. The fire, in an unpopulated area up on the river bluff, is already listed on the Northwest Large Fire Interactive Map, so you don't call it in, but leave the area alone for the responding crews and move along.
Unfortunately, that's the end of the clear air. As you drive east, it grows increasingly smoky until you start coughing and sneezing in the car and turn the air to recirculate hoping it'll help. The haze is enough to imitate a moderate fog. Your wildfire back at the river isn't helping, but it's not the only contributor: all of eastern Washington state is blanketed in heavy smoke from several different fires.
You won't be doing any exploring in this air quality, but that's fine, because you have something else to do: mourn.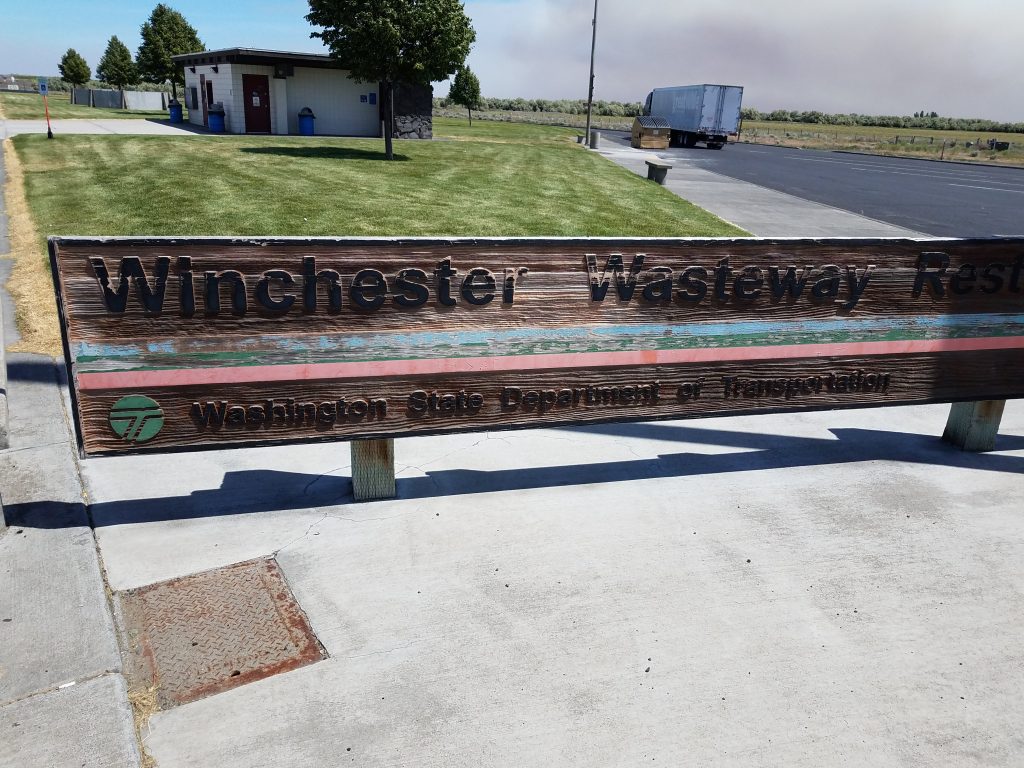 You have several lines of business, all of which are valuable and worthwhile, but one of them — the one you'd pinned most of your hopes and dreams on for four years now — just isn't working out, and it's time to face up to it.
Grief is hard, and it sucks, but if you have to deal with it, now's the time. You ugly cry and let some of that dream go. You hate crying and don't do it often, so you don't really feel better when you finish, but you huffily wipe your nose and your streaming eyes and hope it'll help in the long term.
(And it does.)
---
Eastern Washington state is made of long, long rolling hills, blanketed in smaller hills, which are topped with even smaller hills, which are covered in hillocks, which are covered in hummocks, which are covered in tuffets. All of this is thinly covered by dry, golden grasses. In spots, the bones of the land show through, rough black blocks of lava tumbling down hillsides through the grasses.
Since you're only stopping to stretch and use the bathroom, you make good time, and rather than stopping in Spokane for the night, you decide to push on to Coeur d'Alene, Idaho, which isn't much farther away and has slightly better air quality.
First, though, you need dinner. You sit in Spokane's surprisingly heavy rush-hour traffic to visit Wisconsinburger for a delicious Awe Geez burger with bacon, cheese curds, and caramelized onions. In a random wave of anxiety, it takes you ten minutes to get out of the car and go inside, but the food is well worth it.
Another point of anxiety on this first day is finding a place to stay, which you'll need to do most nights (though you've pre-booked a few). On previous long trips, you've either had lodgings pre-booked or a traveling buddy, so the person not driving could make arrangements. This trip, it's all you, and that's okay. You make a last-minute reservation at a Quality Inn in Coeur d'Alene that's perfectly adequate, if offering beds much firmer than you'd prefer (a trend that you'll see for most of the trip).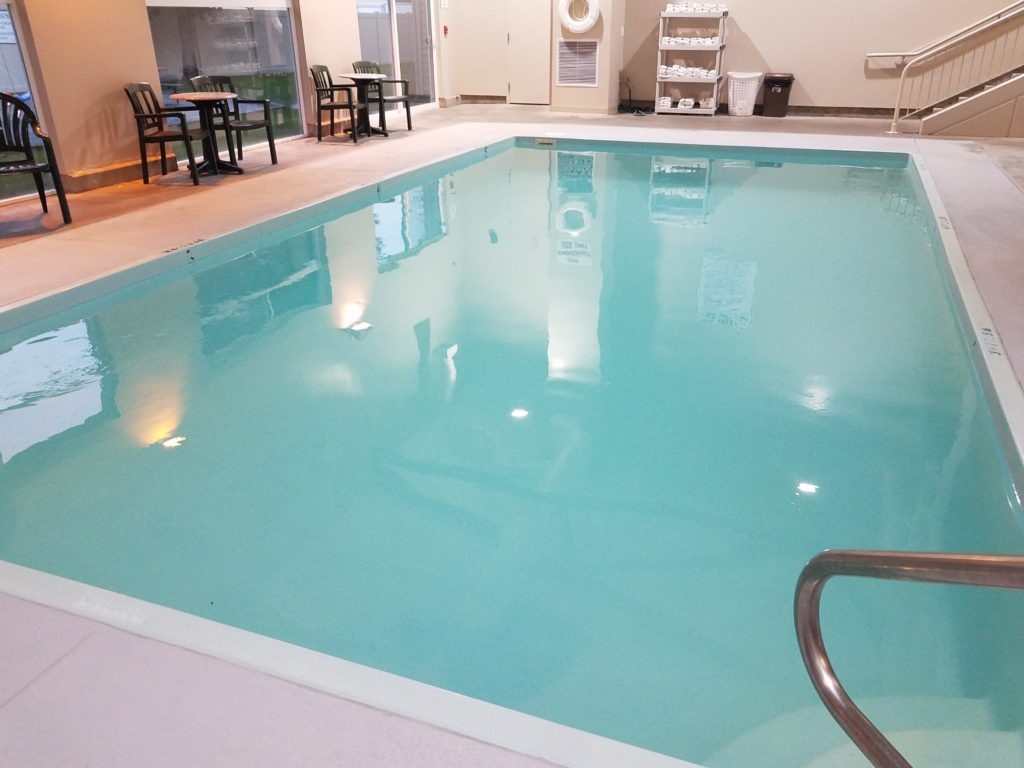 To finish off the evening, you don your two-piece bathing suit and do some representing of fat bodies by sauntering down to the small hotel pool and spending some time in the cool water before relaxing in the hot tub.
(Afterward, you try rinsing out the bathing suit in your room, compressing it in a towel to wick away as much water as possible, then hanging it up overnight to dry. It's still good and damp the next morning, so you lay the pieces over your closed suitcase in the car to dry, which works nicely.)