I started Body Liberation Stock in 2017, and I'm currently the only person in the world producing positive stock photos of people in very large bodies.
Body Liberation stock offers images for commercial use, including:
» Social media
» Websites
» Blog posts
» Brochures
» Apps
» Endless other uses
You'll find images focused on inclusion and diversity in all walks of life, perfect for bloggers and graphic designers and priced for small business owners.
It's amazing work: not only do the people in the photos get to represent bodies like theirs, but companies and small businesses have a chance to represent the real diversity reflected in their customers' bodies (which helps attract business as well as being good for the world).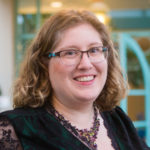 Hi there! I'm Lindley. I create artwork that celebrates the unique beauty of bodies that fall outside conventional "beauty" standards at Body Liberation Photography. I'm also the creator of Body Liberation Stock and the Body Love Shop, a curated central resource for body-friendly artwork and products. Find all my work here at bodyliberationphotos.com.