Fat people, we do not have to acquiesce to our culture's normalization of hierarchy. We do not have to turn the other cheek.
We can demand fairness. We can demand both the recognition of our complexity and greater access to fuller lives.
We can recognize that choosing proximity to thin lovers and friends does not grant us safety, only the shallow pleasure of complicity that we have been taught is joy.
Real joy nourishes you. It does not require you to go back again and again in order to feel some crumbs of humanity. Joy does not come at the expense of your dignity, of your humanity.
Humanity is your birthright. Humanity is already yours. » Virgie Tovar
👉 Book a session to see yourself through my lens »
👉 Buy plus-size & body-positive stock photos »
👉 Subscribe for more body image resources »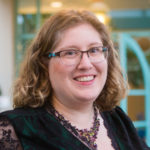 Hi there! I'm Lindley. I create artwork that celebrates the unique beauty of bodies that fall outside conventional "beauty" standards at Body Liberation Photography. I'm also the creator of Body Liberation Stock and the Body Love Shop, a curated central resource for body-friendly artwork and products. Find all my work here at bodyliberationphotos.com.