Today I'm demonstrating how one of the products for February's Body Love Box gets from my supplier to your box. Take a sneak peek at the item, a My Stretch Marks are Sexy enamel pin from Golden Tooth Club, and see me prepare an individual pin for inclusion in the box. The transcript of the video is below.
The Body Love Box is the friendly, fat-positive, body-positive, intersectional and LGBTQIAP+-affirming monthly subscription box that improves your body image and supports marginalized artists.
This fat-positive, intersectional monthly swag and resource kit includes 5-7 full-size items each month:
Zines from old-school fat acceptance to new self-care
Resources, coupons and goodies around sex positivity, role models, care and feeding of the body you have right now, and more
Artwork from marginalized artists — fat, superfat, POCs, and LGBT+
Fun body-positive and fat-positive swag
---
Video Transcript
Lindley Ashline: Hey everybody. This is Lindley. And I run the Body Love Box. And today, I thought I would share with you a little sneak peek for the next box and the products that are in it and what I'm doing to get them ready to go in the box for you.
I just got these a couple of days ago. And I was so excited that I went ahead and did—I think I've done over half of them.
So, this is a pin. I'm going to show you a close-up here in a minute. This is an enamel pin all the way from Paris, France to [delight] our Body Love Boxes. It is from Golden Tooth Club which is spelled exactly the way it sounds. And you can see their work on Etsy.com/shop/goldentoothclub or on Instagram at @Golden.Tooth.Club. And it's tooth like "gold teeth."
So, let me come around my desk for a second and show you a nice, little close-up of this. It is an enamel pin. There we go! Now it's focusing. It's an enamel pin that says "My stretch marks are sexy." And it has a cute, little butt with some stretch marks and some little purple laces around it.
I thought this was perfect for the February 2019 box because we're talking all about how fat bodies are sexy too—in addition to being valid and worthy. No matter what kind of bodies that we're in, we can also be sexy and sensual and worthy of not only love and affection… but sex!
And so, that's what the February box is all about. And I'll be announcing more of the products in the February box as we go. But since this one just came out, I wanted to show it off.
So, what I'm doing with these is they came in this lovely, little box. They got beaten up by the post office, but the pins themselves are fine. So the pins were shipped to me in protective plastic. And what I'm doing is I'm putting them on the backing card. And so I'm going to zoom in, I'm going to show you…
So, the pins weren't shipped on the backing cards which makes a lot of sense because, the individual pins, that way, the pins could be protected in plastic, and also the cards didn't get beaten up. So what I'm doing is taking the pen and making it into the finished product that you'll get in the box.
So, what I'm doing to accomplish this is just taking each pen out of its protective wrapping and putting the wrapping aside. And when it come from the manufacturer, the backings for the pins are a little bit stiff.
And in order not to hurt my fingers, I'm using a pair of jewelry pliers. They're those round-nose pliers that I already have. And I am very carefully—so that I don't scratch the enamel—sliding each one under the backing of the pin and pulling it off.
So that leaves the sharp bits of the pin in the backing card. And so then I'm taking the backing card—and this took me a little bit of practice, but now I can get it nice and centered. The backing cards don't already have holes in them, so I'm using the pin itself to punch the holes. And so I'm holding it up. Let's see if I can do it facing away from me.
So, I'm holding this so that it's nice and centered on the card, and then just squeezing carefully—not piercing my fingers. By squeezing it away, it just pops it right through the backing card.
And here is the pin back. And then, I'm replacing the backing thingamajigs on the points of the pin. So then it looks like a nice, polished final package.
And this is what you'll be getting in the February Body Love Box.
---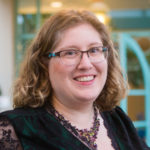 Hi there! I'm Lindley. I create artwork that celebrates the unique beauty of bodies that fall outside conventional "beauty" standards at Body Liberation Photography. I'm also the creator of Body Liberation Stock and the Body Love Shop, a curated central resource for body-friendly artwork and products. Find all my work here at bodyliberationphotos.com.