This post may contain affiliate links, which allow us to earn commissions on products we recommend. All opinions are our own.
[Image description: Body-positive products are scattered across the image, including pins, patches, stickers and postcards. A teal bar across the image reads, "20 body-positive stocking stuffers for under $10" with the URL of the post. End image description.]
The holidays are one of the best times to gift your friends and loved ones with body-acceptance and fat-positive resources — especially when I've collected lots of great options for you. Or, add to your own collection any time of year!
December is also a great time to reinforce your own body-positivity arsenal, because New Year's is coming — and with it, the usual avalanche of diet culture. All the "New Year, New Me" messaging can have people feeling "less than" for the bodies that they have.
This holiday season, remind yourself and your loved ones that their bodies are perfect the way they are and that they (and you) do not need to change in order to be worthy. Put one of these fun body-positive products in their stocking to give the gift of Body Love this holiday season and have your friends and family going into the New Year feeling proud and ready to take on the new year without feeling that they need to change who they are! (And in this year of social distancing, these little gifts are easy to send directly to your lucky giftee directly from the Body Love Shop.)
Here are 15 body-positive and fat-positive goodies under $10, including stickers, zines, art prints, books, and more.
1. Unfuck Your Boundaries: Build Better Relationships through Consent, Communication, and Expressing Your Needs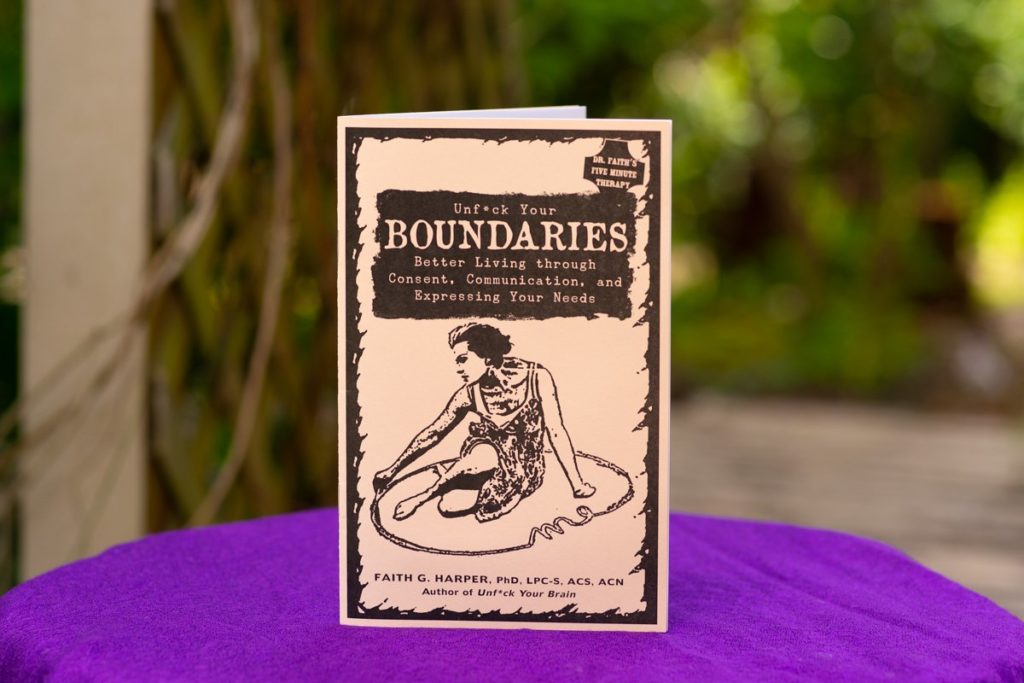 Boundaries are the ways we communicate our needs. They are what allow us to feel safe among strangers, in everyday interactions, and in our closest relationships. When we have healthy boundaries, we have a strong foundation in an uncertain world. And when someone crosses your boundaries, or you cross someone else's, the results range from unsettling to catastrophic.
In this zine, bestselling author Dr. Faith Harper offers a full understanding of issues of boundaries and consent, how we can communicate and listen more effectively, and how to survive and move on from situations where our boundaries are violated.
Along the way, you'll learn when and how to effectively say "no" (and "yes"), troubleshoot conflict, recognize abuse, and respect your own and others' boundaries like a pro. You'll be amazed at how much these skills improve your relationships with friends, strangers, coworkers, and loved ones.
Available for $6.00 in The Body Love Shop>>
2. Body Image Button Trio: Worthy, Abundant, Taking up Space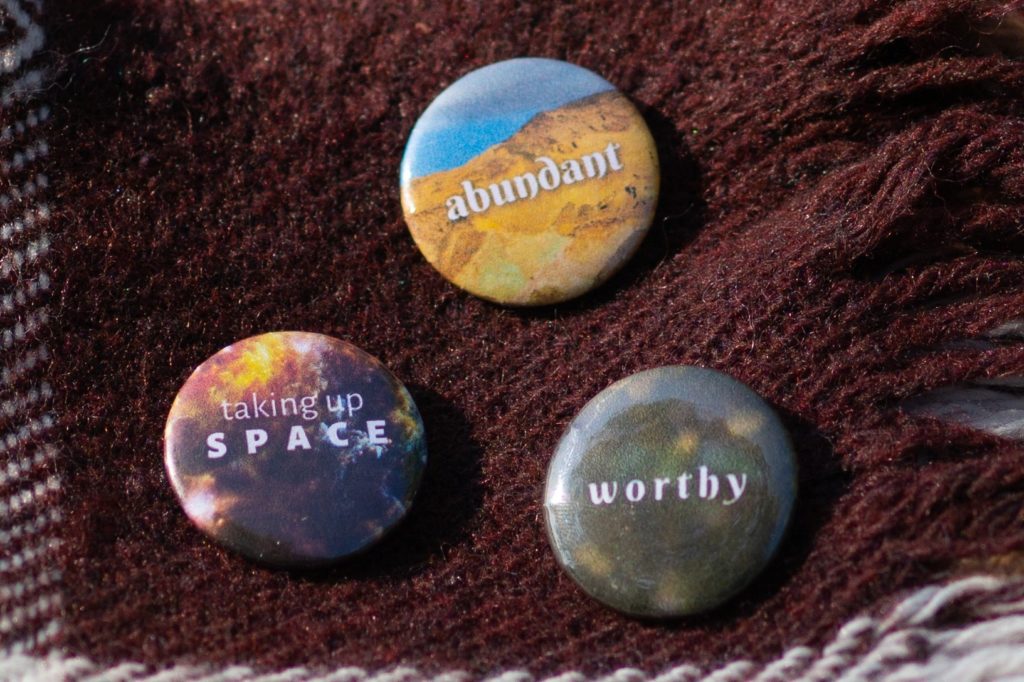 Sometimes the little reminders are the best: not enough to start conversations in public, but enough to give you a bit of a glow each time you see them. Pin this trio of small buttons to your jacket, bag, or bulletin board, and let them give you a boost when you need it.
Availabe as a pack for $5.20 in The Body Love Shop>>
3. Self-Care Sticker Sheet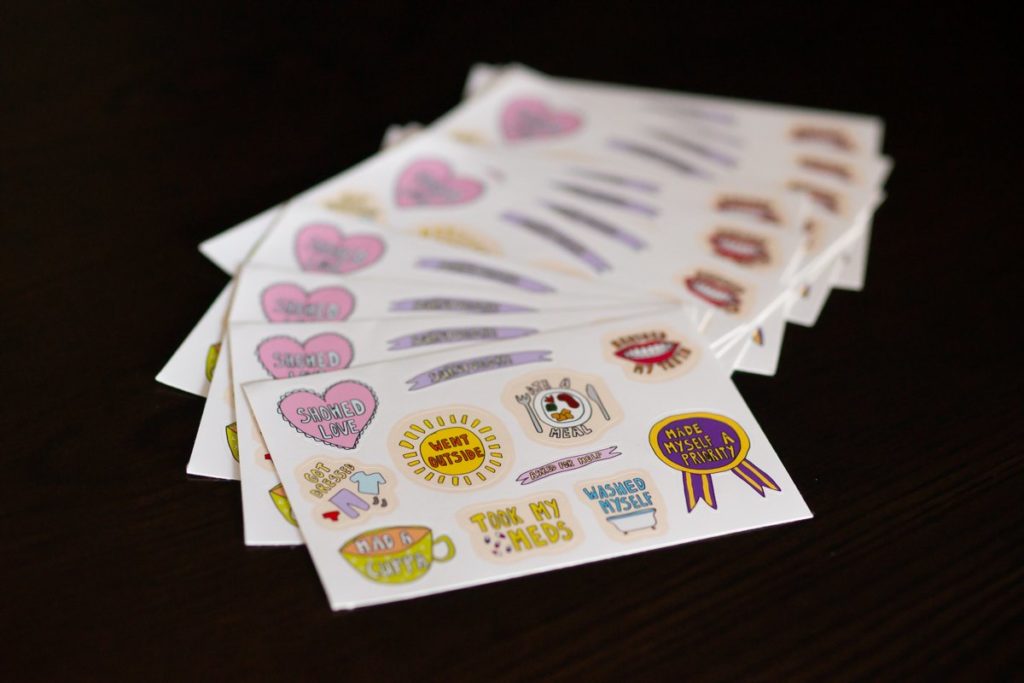 This sheet of hand-drawn, original stickers is the perfect addition to your daily journaling or your scrapbook. Each self-care-focused sticker records your success in actions like taking meds, going outside, or eating a meal. Sticker sheet measures 4 x 6 inches. 11 delightful stickers by Love Not Hate Designs. Shipped in a sturdy flat envelope to prevent bending or crumpling in transit
Available for $5.00 in The Body Love Shop>>
4. Fat Girls Card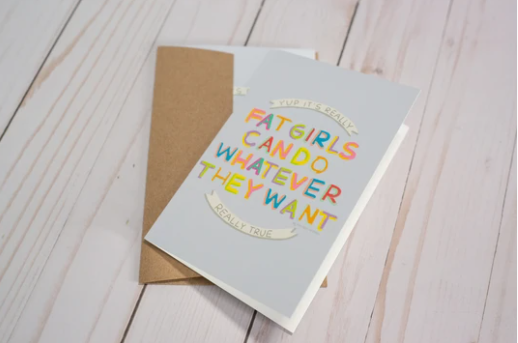 This 4×6-inch card from fat-positive artist Rachelle Cateyes features a gray-lavender front with the words Fat Girls Can Do Whatever They Want (Yup It's Really Really True) in colorful letters and white banners. The inside is left blank for your message. Comes with an envelope in a medium brown color. Also suitable for framing!
Availble for $5.75 in The Body Love Shop>>
5. Body Love Magnet
Lush feminine bodies are front and center in this brightly-colored magnet. Flexible magnet measures 2.5 inches by 2.5 inches
Available for $4.00 in the Body Love Shop>>
6. Button: Chub Rub Club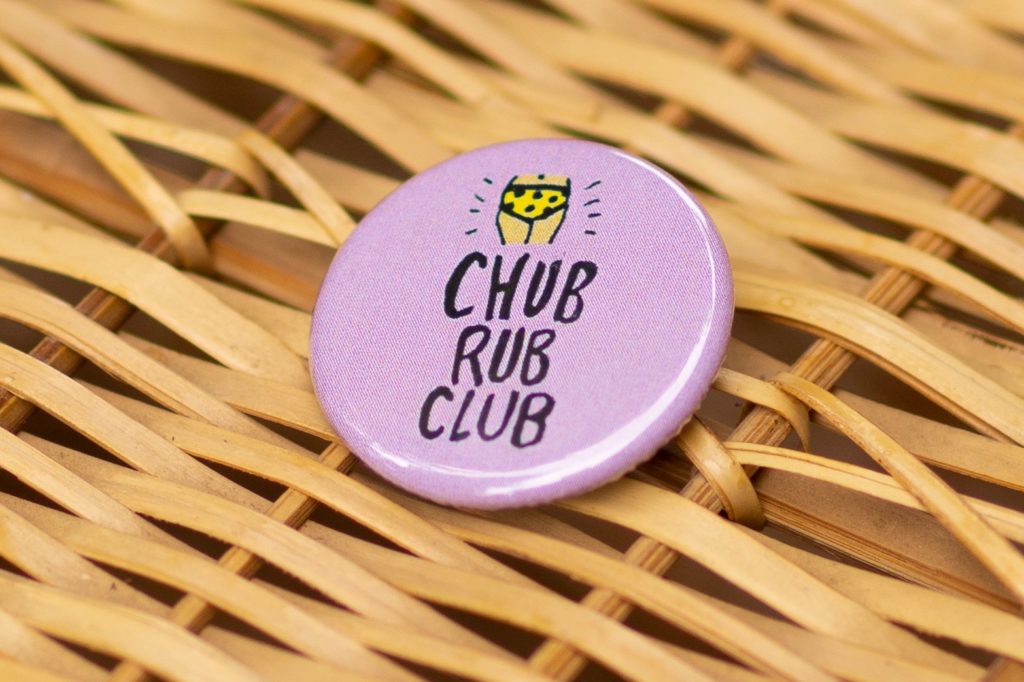 Welcome to the chub rub club! This cute little badge of membership shows a set of larger thighs in yellow and black undies above the words Chub Rub Club on a lavender background. Button measures 1.25″ across.
Available for $1.60 in The Body Love Shop>>
7. Sticker: Every Roll is a Cat Pillow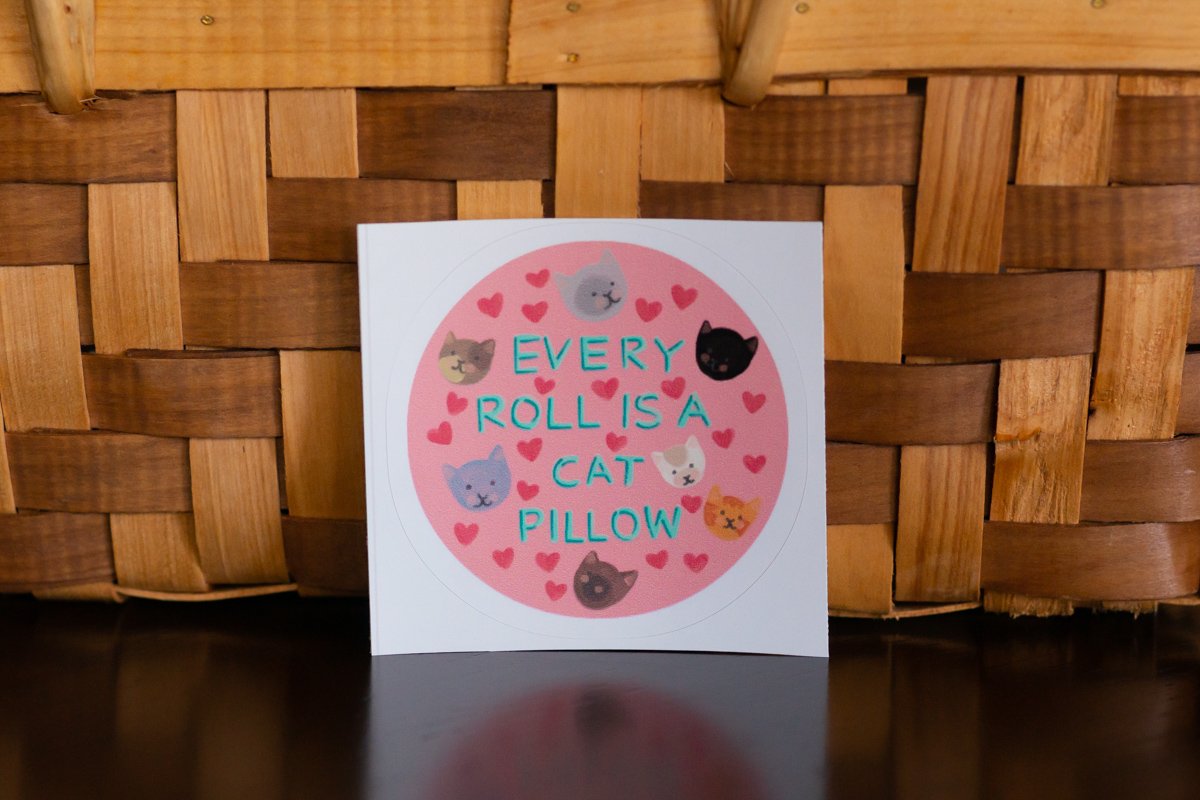 Is your cat a lap snuggler, or more of a shoulder lounger? Mine are hip loafers and thigh sitters by preference. Celebrate bodies that cats love to snuggle with this sticker that reads "Every roll is a cat pillow," accompanied by hearts and a variety of sweet cat faces. Sturdy vinyl for your water bottle, laptop, or notebook. Round sticker measures 2″ across.
Available for $3.75 in The Body Love Shop >>
8. In Love with Me Massager + Curvy Girl Lingerie Discount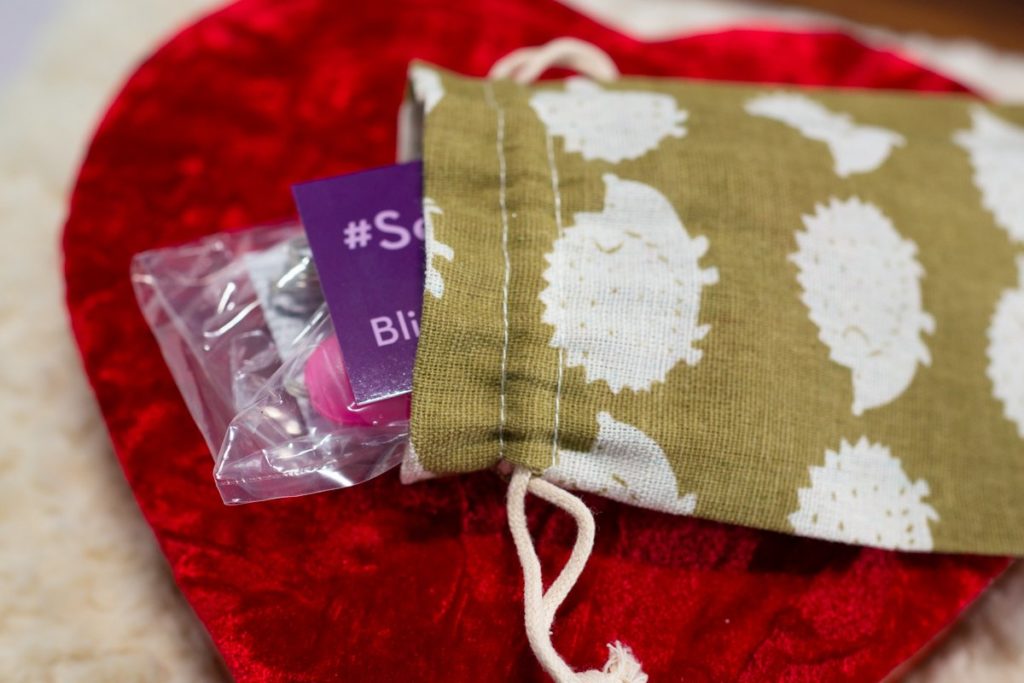 Inhabit your physical body with a little more pleasure with this personal massager (okay, it's a bullet vibrator). I've partnered (no pun intended) with Curvy Girl Lingerie to bring you an incredible 25% discount on plus-size lingerie and other sex toys as well; you'll receive the coupon code along with your package (pun ever so intended).
Each vibe comes tucked inside an adorable, safe-for-public drawstring bag (designs vary).
Available for $8.00 in The Body Love Shop>>
9. "Breathe" Art Print by Jiji Knight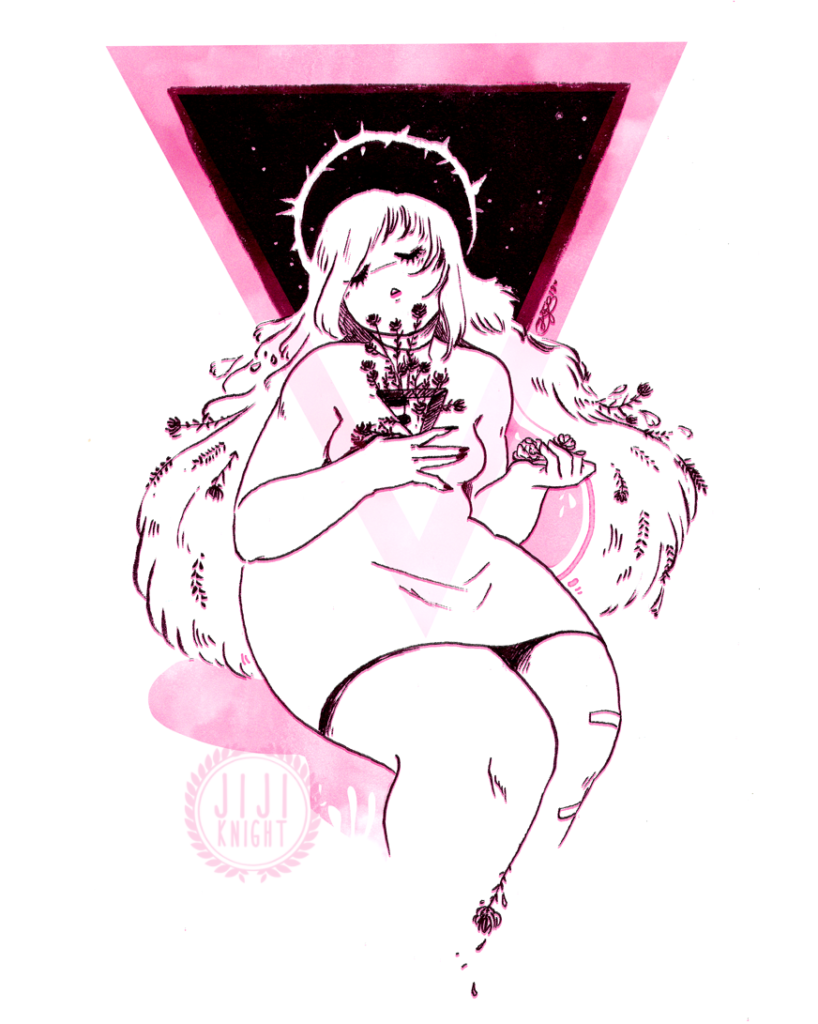 This dreamy art print by illustrator and artist Jiji Knight features a plus-size babe with long hair depicted in pink, black and white. She's holding flowers that drift around her, and a spiky halo hovers behind her head on a field of stars. 5×7″ print on sturdy, glossy fine art stock. Shipped in protective packaging
Available for $6.00 in The Body Love Shop>>
10. Balloon Babe Bookmark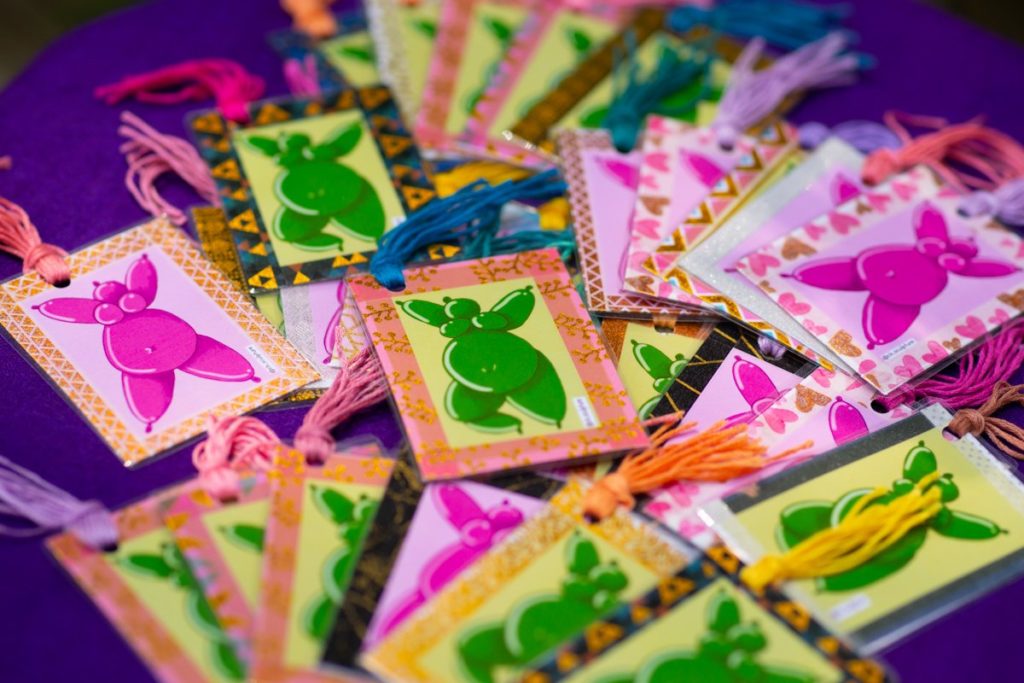 Sculptor Chrissy Brown isn't just talented at sculpting; she's an illustrator, too. These balloon body bookmarks are a lovely reminder that round bodies are valuable. Each laminated bookmark measures 2″ x 3.5″, is hand-edged with colorful washi tape, and comes with a pretty floss accent tied on. Colors vary; the packing unicorns will pick out a beautiful one for you.
Available for $6.00 in The Body Love Shop>>
11. Rose Quartz Confidence Stone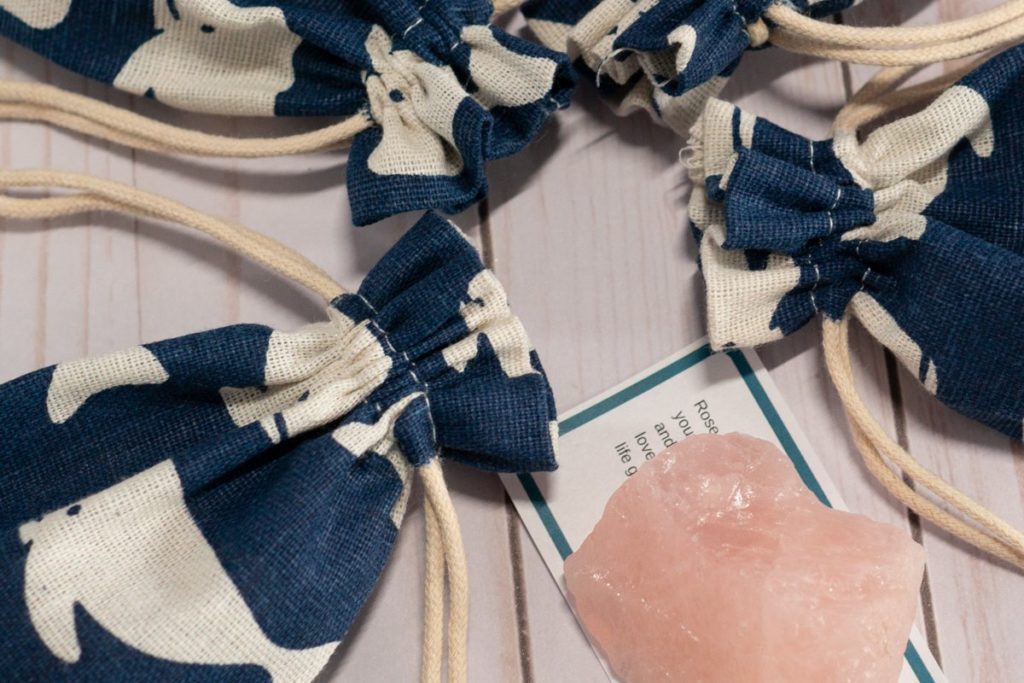 Rose quartz is the stone of unconditional love. Like this stone, your body is a perfect creation of nature, and it's always worthy and valuable. When you hold this stone, let that unconditional love wash across your whole precious body. Remember: When life gets rough, you don't always have to show up polished.
There are good secrets, and there are bad secrets. So often as adults, our secrets can be sad, or even dangerous. Bring back the days of passing notes in class and silly, happy secrets with the Rose Quartz Confidence Stone. Keep it with you and let it remind you of your inherent value, dignity, and worth each time you touch it. May contain one larger stone (great for your purse or bag) or several smaller stones (great for tucking away as reminders).
Available for $5.20 in The Body Love Shop>>
12. In This Body Drink Coasters, set of 4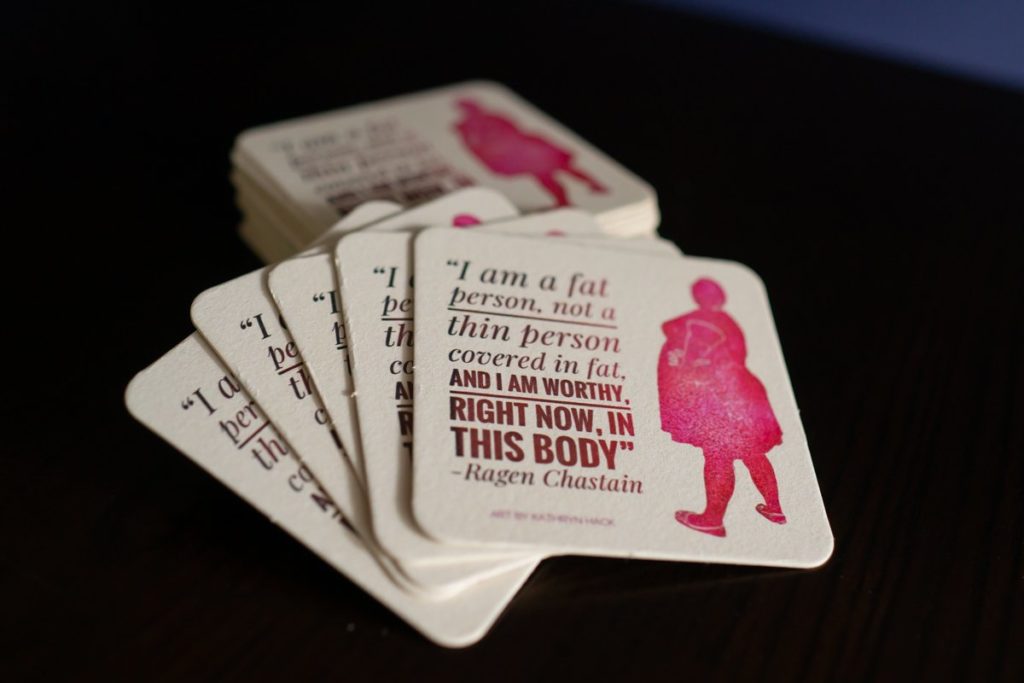 This sturdy, reusable drink coaster set features artwork that's a collaboration between three fat folks: athlete and activist Ragen Chastain and artists Kathryn Hack and Lindley Ashline. Lindley took a photo of Ragen, and Kathryn turned it into digital artwork and added Ragen's words. The entire work has been printed on each coaster for a fun touch of fat positivity every time you set down a drink. 4″ by 4″. Four to a set, tied with a pretty ribbon (colors vary). Sturdy coaster board.
Available for $9.00 in The Body Love Shop>>
13. Suprise Me! Body Positive Soaps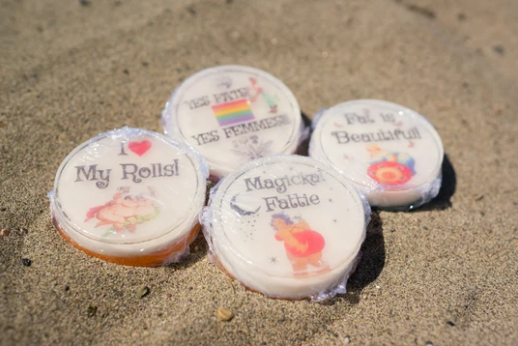 Get a little bathtime surprise in your mailbox with one of these body positive soaps — unicorn's choice. All soaps are approximately the same size and are made by marginalized artists. Order more than one and the packing unicorns will ensure you receive a variety of soaps.
Available for $5.00 in The Body Love Shop>>
14. Fat Unicorn Washi Tape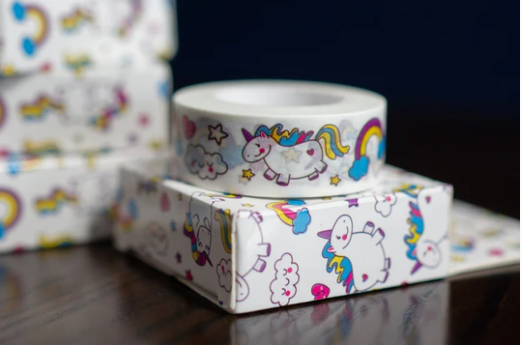 What could be more fun than unicorn washi tape? Also known as masking tape, every inch of this non-permanent tape is full of plump unicorns, rainbows, and stars. Perfect for decorating your journal entries or crafts. Measures 15 mm wide and 10 meters long. Plenty for any project you can imagine! Shipped in the protective and decorative box so no unicorns are harmed in shipping. Small enough to go with you anywhere (for guerilla taping projects?)
Available for $4.20 in The Body Love Shop>>
15. Surprise Me! Drink Koozies
Nothing harshes a beach day like achingly cold fingers wrapped around a cold drink. Protect your extremities with this cushy koozie (or cozy, or kozy) for soda or beer. Each koozie measures about 4×5″ when flat, features eye-catching holographic text, and is just the right size to hold a standard soda can.
Colors and designs vary; the packing unicorns will pick out a beautiful one for you with one of the sayings shown here in one of the colors shown. Order multiples and we'll send you a variety of designs.
Available for $7.00 in The Body Love Shop>>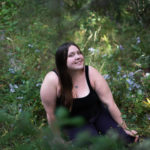 Shelbey Osborne is a 200-hour Yoga Teacher. She is passionate about yoga and astrology and uses these teachings to help individuals connect deeper to their own intuition. She is an advocate for body acceptance and applying a self-compassionate approach to all areas of our lives.