There's a new print of my work available in the Body Love Shop! In this fine art photograph, a fat woman with brown skin and long black hair, wearing a sleeveless floral dress and a flower in her hair, is shown from the waist up. She's holding up one end of a long strand of pearls, with the other end of the necklace draped around her neck. Behind her is a body of water at dusk with low mountains in the background and a hint of sunset color in a cloudy sky.
The woman in this photograph has Pacific Islander and Tongan heritage, grew up in Hawaii and now lives in Seattle. We visited the shores of Puget Sound to celebrate and honor both her heritage, through her deep experience in and love of hula dancing, and her current home.
These prints make wonderful additions to the walls of your home or office. They look great tacked to your fridge or propped up on a table, mantel or desk, and they're fantastic gifts for friends or lovers.
Yoga studios, Health at Every Size (HAES)-aligned therapists, healthcare providers, massage therapists, fitness facilities, trainers, coaches and others also hang these pictures to make clear the welcoming and inclusive nature of their businesses. (Don't have physical walls right now? Consider how they'd look in the background of your Zoom calls.)
The fine art prints I offer come in two different styles:
Matted Fuji pearl prints (5×7″ and 8×10″), which feature sharp detail, high-intensity colors and a distinctive pearl-like sheen
Thin wrap (11×14″ and 24×36″), an extremely lightweight and wall-friendly print that "floats" on your wall
I order, hand mat and sign, and send each print directly to your doorstep. (Want a larger size? Email me at [email protected])
I'm a professional photographer based in Seattle, WA. I create artwork that celebrates the unique beauty of bodies that fall outside conventional "beauty" standards. My work is both body-positive and fat-positive, and is known for its rich colors and focus on bodies as they exist in the world without retouching.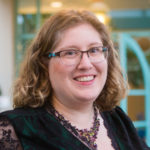 Hi there! I'm Lindley. I create artwork that celebrates the unique beauty of bodies that fall outside conventional "beauty" standards at Body Liberation Photography. I'm also the creator of Body Liberation Stock and the Body Love Shop, a curated central resource for body-friendly artwork and products. Find all my work here at bodyliberationphotos.com.