Star Wars? Star Trek? Marvel? The periodic table? Anime? Comics? Animals? Video games? D&D?
One of the most fun ways to participate in pop culture is to wear a fun piece of clothing that reflects your interests. When you wear plus sizes, though, geeky and fandom apparel can be hard to find.
Whether you're shopping for gifts for others or dressing yourself, here are 10 places to get your geek on with plus-size and extended plus-size logo tees and other fun fashions.
This post may contain affiliate links, which allow us to earn commissions on products we recommend. All opinions are our own.
1. Once Upon a Tee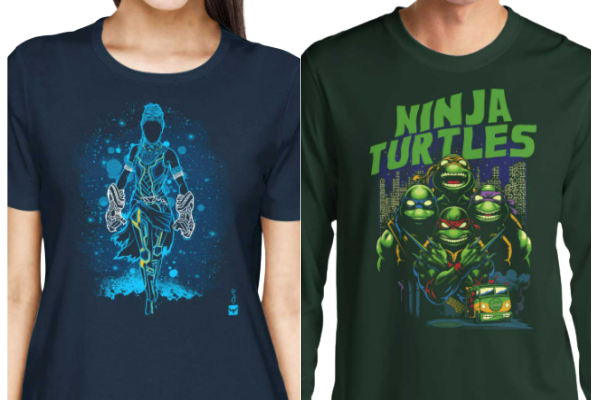 Largest size: 6XL (34.5″ width, 37″ height)
Size chart
Once Upon a Tee features a variety of graphics for Tee Shirts. From Baby Yoda to Mystical Disney Princesses to Spooky-Inspired T-Shirts, this website has it all! Find hundreds of different designs on this site to appease everyone. There are different shirt styles available to choose from for each design with the largest being the 3/4 length sleeve shirt which is available to 6XL.
Shop: Once Upon A Tee
2. TeePublic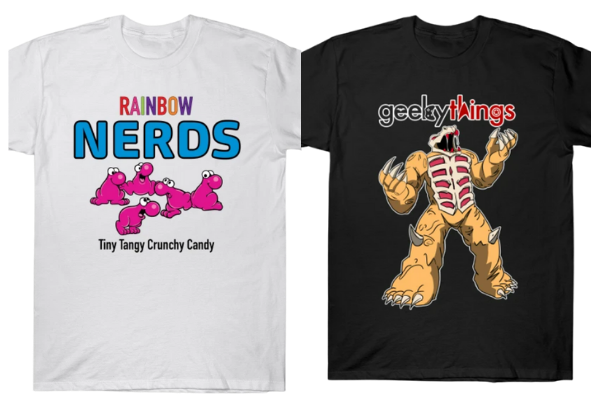 Largest size: 5XL (32″ width, 35″ height)
Size chart
TeePublic is the world's largest marketplace for independent creators to sell their work. Come and support individual and small artists with each purchase that you make on TeePublic. Find pop culture t-shirts, stickers, posters, merchandise and more. This site has everything from your old-time classic movies to comedic shirts. There is a shirt here for the geek inside of all of us!
Shop: Tee Public
3. Torrid Fangirl Collection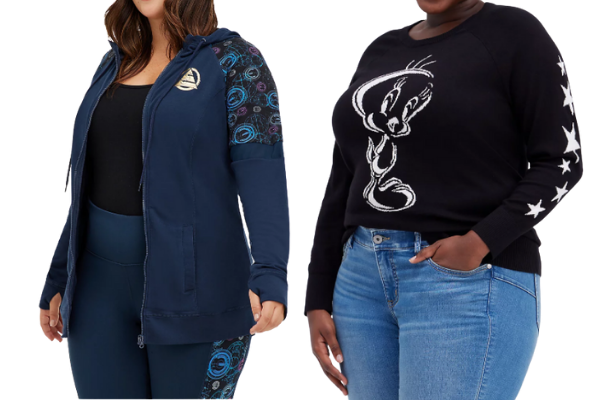 Largest size: 30/6XL (67-70″ bust, 60-67″ waist)
Fit Guide
Size Guide
Torrid is known for carrying some of the most fashionable fangirls finds around, with exclusive Her Universe designs, Disney merchandise, Harry Potter, Marvel and more, and we're excited to see more collections continued to be added.
Shop: Torrid Fangirl Collection
4. Hot Topic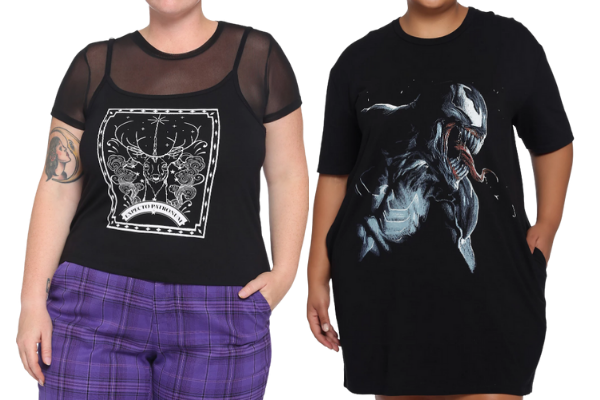 Largest size: 3XL (44.5″ bust, 38″ waist)
Size Guide
Hot Topic is the best store available for the rocker, gamer chick. Find clothes that show off your rocker-punk side with clothes and accessories from Hot Topic. Anyone
Hot Topic is a retail chain specializing in counterculture-related clothing and accessories, as well as licensed music. The stores are aimed towards an audience interested in rock music and video gaming, and most of their audience ranges from teens to young adults.
Shop: Hot Topic
5. Her Universe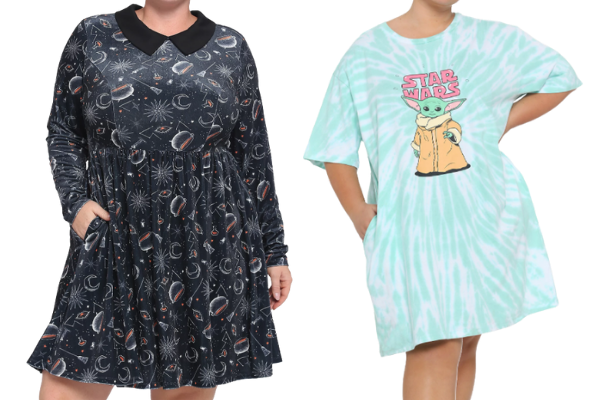 Largest size: 5XL (58″ – 62″ bust, 52″ – 56″ waist)
Size & Fit Guide
Her Universe, the groundbreaking fangirl fashion company and lifestyle brand, is the vision of Ashley Eckstein, actress, entrepreneur and voice of Ahsoka Tano in Star Wars: The Clone Wars and Star Wars Rebels. Her Universe offers clothes for fangirls to be their fullest expressions of themselves through their fashion. They are breaking the belief that only boys can be nerds by offering the best women's fangirl apparel available.
Shop: HerUniverse
6. Nerd Kung Fu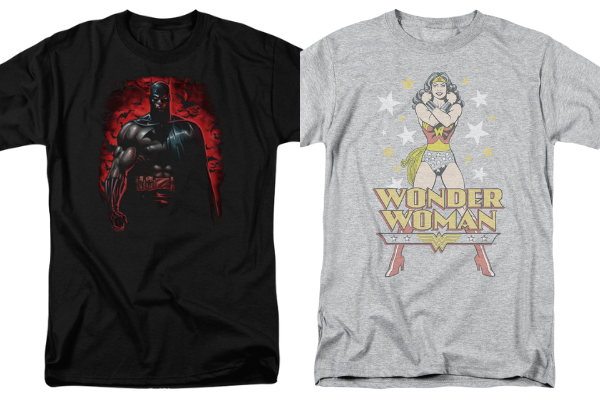 Largest size: 7XL (34″ width, 41″ length)
Size Guide
Nerd Kung Fu understands that people come in all shapes and sizes, and know-how difficult it can be to find some cool graphic tees in plus-sizes. That's why Nerd Kung Fu has a huge selection of awesome plus-size t-shirts featuring the full gamut of nerdom, from classic movies and TV shows to comic books, games and more, in full-color and printed on 100%-cotton. These plus-size shirts are excellent for nerds that are large and in charge.
Shop: Nerd Kung Fu
7. RedBubble Fan Art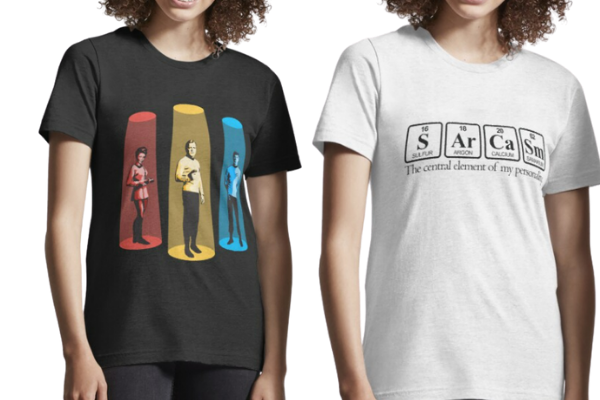 Largest size: 5XL (30″ width, 71″ height)
Size Information
Redbubble is a platform that allows independent artists a way to sell their creations. You will find a wide array of different designs and prints available on Redbubble. Whether it's a shirt with an evil cat, a quote from Schitts creek or a photo of Rick and Morty, you can get your favorite shows and creators on a t-shirt.
Shop: RedBubble
8. TeeFury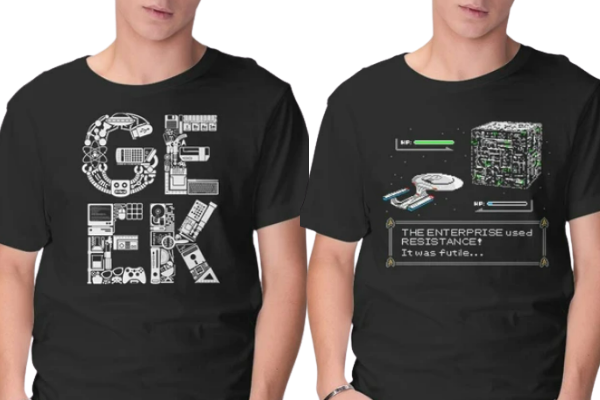 Largest size: 3XL (28-29″ width, 33-34″ height)
Size Guide on each item
At TeeFury you will find your favorite pop culture tees and t-shirts for the geek TeeFury as another site that allows independent artists to sell their work to a loyal following. There is a multitude of different designs on TeeFury to meet the need of any geek!
Shop: TeeFury
9. 1138 Clothing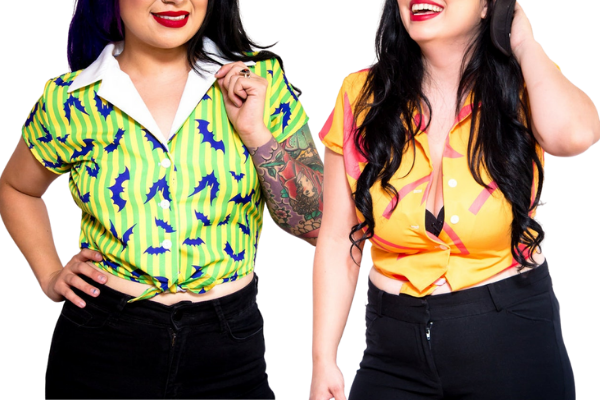 Largest Size: 4X (52-54" bust, 43-45" waist) Custom Sizes Available
Size Guide on each item
1138 Clothing is the place for fun and nerdy clothing for girls that like fashion. These bright, button-up, collared tops are SUPER CUTE. Add these pieces to your wardrobe for when you are feeling a little spooky but still want to POP.
Shop: 1138Clothing
10. TeeTurtle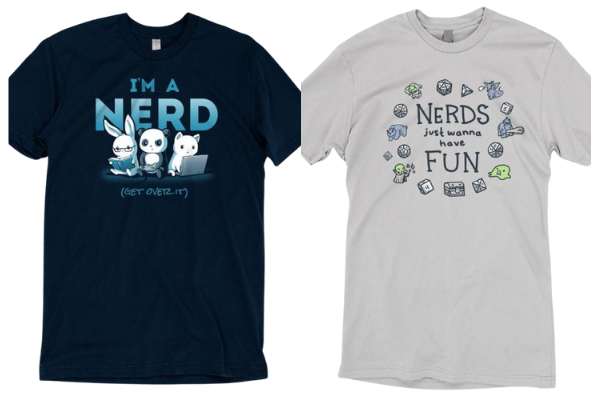 Largest Size: 3X (33" length, 28" width) Custom Sizes Available
Size Guid!
Marvel and Disney and Star Wars, oh my! TeeTurtle's Fandom shirts have it all! They are unapologetically nerdy and create fan-based designs. They release new t-shirt designs every week. With the option for Custom Sizes, TeeTurtle makes itself inclusive to nerds of many sizes and shapes!
Shop: TeeTurtle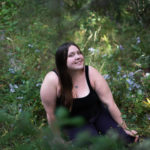 Shelbey Osborne is a 200-hour Yoga Teacher. She is passionate about yoga and astrology and uses these teachings to help individuals connect deeper to their own intuition. She is an advocate for body acceptance and applying a self-compassionate approach to all areas of our lives.