Hi, it's Lindley. I'm here with yet another review for an item I bought on Zulily.
This one is from a brand called Troo, T-R-O-O. And if you like their stuff, they're on Zulily every week. So all you have to do is look for the burnout patterns and you'll find them.
I'm really liking this one. It's lightweight. I would wear this in chilly weather, but not cold weather. I've got an old Lane Bryant cami under here that's black so that you can see the pattern on top of it.
This is a burnout pattern, which means that if you don't wear something under it, you will show your bra, fair warning. But I just think the pattern is really pretty, and I like the little hoodie on it.
It's a nice little piece I'll wear when I go out walking — or around the house, honestly — for a little extra warmth to cover up. But I like this one. It's a keeper. xoxo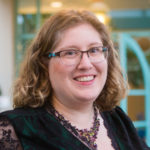 Hi there! I'm Lindley. I create artwork that celebrates the unique beauty of bodies that fall outside conventional "beauty" standards at Body Liberation Photography. I'm also the creator of Body Liberation Stock and the Body Love Shop, a curated central resource for body-friendly artwork and products. Find all my work here at bodyliberationphotos.com.