Now that it's colder, I'm looking for some nice fall and winter pieces. This is a new sweater from a brand called Curvy Lily.
This is an unusual piece for me. I'm not a huge super-tight-sweater person and I'm not a 'crop top/barely-comes-down-to-the-line-of-your-pants' person, so I'm not sure how I feel about this one. It's sort of a collegiate-looking sweater. And it's got this – like if I stretch, it shows my belly. If it were cold, I would want to wear something like a cami or something underneath it anyhow for warmth.
But I really liked the shape of it online. I can't really say how I feel about it in person.
What do you think? Should I keep this? Is it a keeper? Let me turn around and show you the back. Let me know what you think!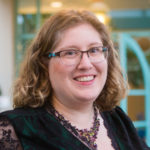 Hi there! I'm Lindley. I create artwork that celebrates the unique beauty of bodies that fall outside conventional "beauty" standards at Body Liberation Photography. I'm also the creator of Body Liberation Stock and the Body Love Shop, a curated central resource for body-friendly artwork and products. Find all my work here at bodyliberationphotos.com.