Did you grow up believing you needed to wear a t-shirt over your bathing suit to cover it up? Do you still believe it?
In the time and place where I grew up, I quickly picked up on that unspoken rule. Thin, bronzed (white) women wore bathing suits in public. Every other woman covered her body with a baggy t-shirt. My developing body was pale and chubby, so I did too when I picked up on the rule at puberty.
But the cover-ups were cumbersome and clumsy. They prevented me from moving freely through the water when I tried to swim, and clumped and clung coldly to my skin when I got out. They were a visible mark of unworthiness, to be worn even in just the company of family or close friends, until we someday proved ourselves worthy of a visible bathing suit.
I'm declaring that day to be today. We are ALL worthy of moving our limbs as freely as our particular bodies allow, and of wearing clothing that's both comfortable and useful.
In celebration, I'm releasing this new fine art print of a fat woman discarding her t-shirt cover-up and baring her beautiful, swimsuit-clad body. Be free.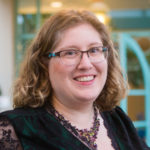 Hi there! I'm Lindley. I create artwork that celebrates the unique beauty of bodies that fall outside conventional "beauty" standards at Body Liberation Photography. I'm also the creator of Body Liberation Stock and the Body Love Shop, a curated central resource for body-friendly artwork and products. Find all my work here at bodyliberationphotos.com.