I went to the chiropractor this morning and I am wiped, y'all. I'm grateful to have the freedom of a flexible schedule that allows me to lie down for a while, so I'm going to go do that.
This much-needed chiro adjustment wasn't something I particularly wanted to do, but that's what radical self-care is: taking care of ourselves even when it isn't fun.
How have you been caring for yourself lately?
(Because people often think fat women all look alike, this is one of my stock photo models, not me. Although that is my cat, Blue!)
Self Care Stock Photo: Plus-Size Woman Resting in Bed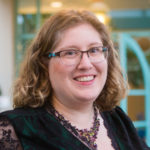 Hi there! I'm Lindley. I create artwork that celebrates the unique beauty of bodies that fall outside conventional "beauty" standards at Body Liberation Photography. I'm also the creator of Body Liberation Stock and the Body Love Shop, a curated central resource for body-friendly artwork and products. Find all my work here at bodyliberationphotos.com.