AAAAAAAAA! I've done my first published book blurb, and it's for Amanda Martinez Beck's excellent new book More of You!
Here's what I wrote (plus extra text that was cut for length):
"More of You grapples with some of the central conflicts of today's body liberation movements. Beck's religion informs her writing as she reconciles being a person of size with one of faith, taking up space in a society that wants fat women to shrink and mingling the body's inherent goodness with pain and discrimination.
This book is an updated fat liberation manifesto that recognizes the gains of the past — and the fights of tomorrow."
More of You: The Fat Girl's Field Guide to the Modern World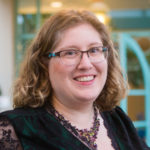 Hi there! I'm Lindley. I create artwork that celebrates the unique beauty of bodies that fall outside conventional "beauty" standards at Body Liberation Photography. I'm also the creator of Body Liberation Stock and the Body Love Shop, a curated central resource for body-friendly artwork and products. Find all my work here at bodyliberationphotos.com.