Holidays are when cultural and social norms are instilled and heavily reinforced. That means those of us who live in fat bodies, or are LGBT+, are pretty likely to face a lot of criticism in spaces that should be joyful and warm and welcome.
It's easy to say "well, just cut those toxic family members out of your life." Real life, of course, is more complex than that.
You can love your uncle and enjoy his company, and still wish he didn't make a negative comment on your weight once per visit.
You can wish your parents would accept your gender without wanting to cut them out of your life. You can love your family and yet not want to hear a constant string of comments that make you feel alone and defensive, or listen to long conversations full of diet talk.
This is the conflicting nature of the holidays for so many of us. A season that "should" be joyful becomes an obligation to appear joyful while staggering under a stack of expectations, emotional labor and extra duties.
For many who've experienced losses, trauma or tragedy around the holidays, an extra box of grief gets added to the pile.
You deserve to have a holiday season that's happy, not a punishment for being you. For those of us who struggle at the holidays, here are some of the best resources on how to set boundaries, take care of ourselves, and know when to draw the line.
See them all: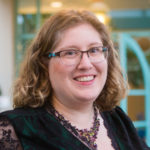 Hi there! I'm Lindley. I create artwork that celebrates the unique beauty of bodies that fall outside conventional "beauty" standards at Body Liberation Photography. I'm also the creator of Body Liberation Stock and the Body Love Shop, a curated central resource for body-friendly artwork and products. Find all my work here at bodyliberationphotos.com.